When Shelly Leer approached me about her "rope walls," unique room dividers that have been featured on design blogs across the country, I figured she was one of those DIY-ers.
You know the type—people who make a living infusing herb vodka or carving Dutch cabinetry while making it look absurdly easy. Despite the fact I am decidedly not a do-it-yourself-er (I prefer to purchase my potpourri pre-dried, thank you very much), I'm always drawn to those with the energy and time to make what is usually readily available off the shelf.
Well, it turns out I was only half right about Leer. She's a DIY-er, all right, but one who's focusing all her creative energy on teaching her craft to people like me, who think DIY seems a lot more like work than fun.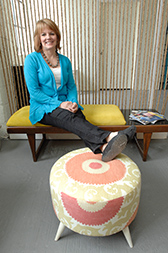 Upholstery teacher Shelly Leer has gained recognition for her "rope wall" design. (IBJ Photo/ Perry Reichanadter)
Sitting on a mid-century modern chair in Leer's East 54th Street studio/classroom, ModHomeEc, we're just a rope wall away from her upholstery workshop. The rope walls, it turns out, were her first foray into interior design after she graduated with a degree in the subject from Butler University in 1978.
"The interior design school was in the home ec department," she said. "I was always embarrassed to tell people that, and then somehow I ended up in paralegal school."
After working as a paralegal for six years and giving birth to her second child, Leer started thinking about what she could do to stay home with her kids. Remembering her undergraduate interests, and inspired by a neighbor with an in-home business, she started an upholstering business out of her garage.
A look around her studio, which is divided into office, workshop and meeting space by her now-notorious rope walls, reveals her 17-year career covering furniture for businesses and individuals—a career she left behind to teach the craft to others.
See what others have to say about Leer's projects:
Fabric and batting materials neatly line one wall of the former awning factory, while less whimsical tools hang from a pegboard in the center. To the left, chairs, ottomans and settees, all in various stages of undress, are scattered on the floor and work tables. Among them are examples of her "spool" ottoman, which was featured in ReadyMade magazine.
It's been six months since Leer shuttered her upholstery business and began teaching the trade full time, and business is good. For $210 per student, Leer spends six weeks coaching her class through their unique projects. Although she recommends a basic chair for a first-timer, she said students rarely want to start small.
That said, Leer had planned to start ModHomeEc on a small scale, but has found it tough to keep it there. She's had to double class sizes from three students to six since January and has started offering three-day, out-of-town workshops in Chicago for double the price. The only way to expand the business, she said, would be to hire another teacher.
"I don't want to end up teaching seven days a week," she said, "so I'm working on trying to expand my profitability without significantly expanding my workload."
Grace Bonney, founder of nationally renowned blog Design Sponge, suggested Leer alter her business model to include online classes, since she can pay for the production costs and profit on the same video over and over, but Leer can't see herself in front of the camera. Instead, she's working on printing patterns and instructions for things like the spool ottoman or the rope wall, and selling them online for a nominal fee.•
__________
If you'd like to share your own style ideas or know anyone who's making waves in the fashion community, contact Poshadlo at gposhadlo@ibj.com. This column appears monthly.
Please enable JavaScript to view this content.