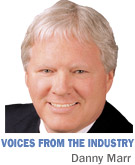 As my wife and I prepare to move to Sarasota, Fla., and I look back on a real estate career of almost 34 years in Indianapolis, I quickly realize what an honor it has been to work with and compete against some of the finest people in the industry.
Six people in particular affected my career.
My first mentor after I graduated from Indiana University in 1977 was the late Walter Bopp, who co-managed the Castleton office of F.C. Tucker Co. Walt was a consummate professional who knew the residential business inside and out, was generous in sharing his knowledge, and had one of the sharpest financial minds of anyone I have ever known.
Leading the company was my second mentor, if only by example, and a real estate icon in our city—the late Fred C. "Bud" Tucker Jr. Bud Tucker was a pioneer of our city's downtown revitalization and a gem of a person. He was old school in his values and approach to business—his word was his bond and a handshake was all that was needed.
Those values were passed on and still hold true for the company's current leader, Jim Litten.
In 1984, I moved into commercial real estate with Phillip R. Duke & Associates, directing downtown Indianapolis office leasing. My third mentor, Jeff Henry, hired me at Duke and taught me all the basics of how to lease office space.
The real work horse and brains behind the company's survival during tough economic times, and the architect of Duke's turnaround, public offering and early success as a real estate investment trust, was Tom Hefner.
As my fourth mentor, Tom was (and is) a no-nonsense kind of guy. He was a leader who set company goals and figured out how to get there. And while he could be abrupt, he was respected by those around him and by Duke's bankers and investment partners. It was an exciting time to be working at Duke—while the company was still privately owned and very entrepreneurial.
In office leasing, our biggest rival was Browning Investments. It's unusual to have a competitor also be a mentor, but I respected Michael Browning and tried to implement some of what I saw him do into my business practices. Michael is the type of person whose presence is felt when he enters a room. In the mid to late 1980s, Browning Investments was very aggressive in downtown office development. They were tough competitors for tenants in the market, especially if Michael decided to take a role in making a deal.
And that's why I consider him my fifth mentor. It's not surprising that Browning and Duke are now joint-venture partners in several industrial projects.
In 1990, I left Duke and co-founded Olympia Partners Ltd., which became the fourth-largest commercial firm in Indy. While building the brokerage business, I also began developing neighborhood shopping centers with two partners. We tried to maintain certain guidelines in how we approached each development and we found ourselves often referring to some of George Broadbent's projects.
I looked up to George and the organization he built, so I consider him my sixth mentor, even though we were competitors. Over time, I came to realize that it is important to learn from not only those you work with, but also those you compete with.
In 2001, I resigned as chairman and principal broker at Olympia, and with my longtime development partner, William T. Stoops III, formed Veritas Realty LLC, a boutique specializing in retail leasing and asset/property management.
The company's managed portfolio has grown to over 3.2 million square feet, and the retail leasing group—Kyle Hughes, Patricia Tesluk and Paul Rogozinski—are highly experienced and effective.
I decided recently it was time to make what is probably my last career move. Returning to my roots in residential real estate, I have joined Michael Saunders & Co., where I will specialize in selling waterfront homes and condos in the Sarasota area.
In doing so, I am once again honored to work with a real estate icon—Michael Saunders, who has built one of the most respected real estate organizations in the country. A native of Sarasota, she started the firm in 1976 and now has over 550 agents with annual sales of $1.5 billion.
I wish much continued success to my friends in the Indianapolis real estate community and I am grateful to all my previous mentors, even the ones who didn't realize they were mentoring me!•
__________
Marr is broker associate at Michael Saunders & Co. in Sarasota, Fla. Views expressed here are the writer's.
Please enable JavaScript to view this content.