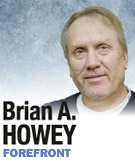 I ran into Rex Early last winter just as the buzz about Richard Mourdock's challenge to U.S. Sen. Richard Lugar was reaching a crescendo.
"Could Lugar get beat?" I asked him.
Yes, was the answer from the former state Republican chairman. Early knows the ins and outs of Republican politics about as well as anyone. Mourdock appeared to be riding the steam off the 2010 elections when the Tea Party caught the attention of just about everyone.
When Mourdock declared his candidacy on Feb. 22, he trotted out the names of almost two-thirds of the GOP county chairs who he said were in his corner. Then in May, he announced that he had the support of 10 of the 18 members of the Indiana Republican Central Committee.
The key thing to remember here is timing. All this was happening more than a year before the primary. In politics, momentum means everything.
And just when you had the feeling Mourdock was about to catch fire, peculiar things began to happen. Within 30 days after Gov. Mitch Daniels signed the new congressional maps into law, the districts had to reorganize. When that happened June 8, seven of the 10 endorsers of Mourdock on the central committee were gone.
In this opaque world of district-level politics, things can get murky. Here's what appears to have happened. State Sens. Jim Banks, 3rd Congressional District, and Sue Landske, 1st District, along with 8th District Chairwoman Marsha Carrington and 9th District vice chairman Don Hayes, did not seek re-election.
Other Mourdock supporters not returning were 1st District Chairwoman Mary Ann Critser, and 2nd District Chairman W. Edward Smith. So Mourdock tried to pull a fast one by pointing to central committee support when he knew a number of them wouldn't be returning.
But the most surprising—and embarrassing—development came in Mourdock's home 8th District and the neighboring 9th. Pam Yoho replaced Carrington (who was no longer in the 8th) and Richard Bramer was defeated by Randy Gentry for vice chairman. Bramer is Mourdock's chief of staff.
Over in the 9th District, Mourdock's grass-roots coordinator, Diane Hubbard, lost her bid to be chairwoman. Hubbard has been appearing at Tea Party events around the state, such as a recent one in Monticello with the White County Patriots, where Mourdock conducted a question-and-answer exercise.
What happened?
Gentry, who is a longtime Republican photographer, told me his upset win over Bramer wasn't so much a referendum on the Lugar-Mourdock showdown as it was a "butt out" reaction to potential kingmakers.
"We didn't believe it should be our role to tell people who to vote for," Gentry said. "Our role is to encourage support for the nominees."
But the fact is that, at a critical time for the Mourdock campaign, the district-level losses of his chief of staff and grass-roots coordinator have created a buzz in the party. That's not the kind of show of party strength a challenger campaign seeks at this stage of the game. And at this time, Mourdock needs to show his organization is beginning to hit on all cylinders.
Early recalled earning the endorsements of "86 or 87" GOP county chairs when he ran for governor in 1996 against Steve Goldsmith and George Witwer. Early finished second in that race.
"But in this day and age, the county chairs really don't dictate to the primary voters. Not like Seth Denbo or Keith Bulen did," Early said. "In those days, they could deliver their county. I wouldn't put too much stock into it."
As for his read on the Lugar-Mourdock showdown, Early said, "If the election had been 60 or 90 days ago, I think Dick Lugar could have lost."
He noted that Lugar's "hard turn to the right" will take some of the steam out of the insurgency against him.•
__________
Howey is a third-generation Hoosier journalist who publishes Howey Politics Indiana. Send comments on this column to ibjedit@ibj.com.
Please enable JavaScript to view this content.