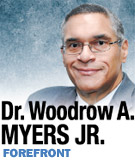 As of this month, it has been 30 years since the Centers for Disease Control announced five cases of a rare pneumonia in young gay men. This report marked the official beginning of the global HIV/AIDS epidemic. In that year, 1981, Bobby Unser won the Indianapolis 500, the Colts were still in Baltimore, and "Dallas" was the No. 1 television show. Physicians in Indiana had yet to identify the first patient with AIDS.
Today, about 8,500 adults and adolescents live with human immunodeficiency virus in Indiana. Over 33 million people around the world live with HIV/AIDS, and it still disproportionately infects underserved populations.
Virtually every active clinician in our major population centers has cared for patients with HIV and knows well the clinical advances that allow patients to live long and productive lives. Thirty years ago, it was a death sentence.
Today, we know more about this disease than ever. We know how it is transmitted (blood-to-blood contact, through vulnerable mucous membranes, and through breast milk from mother to child).
We also know how it is not transmitted. It is still not spread through casual contact, toilet seats or insect bites. Of course not everyone believes it, but the proportion that do is much higher today than in the late 1980s when I served as state health commissioner.
Because of Indiana's experience with Amy Sloan (a young mother from Lafayette) and Ryan White (a teenager from Kokomo), we faced the HIV epidemic head on. Both Amy and Ryan contracted the virus from infected blood products in the days before blood products were routinely screened for the virus. Both cases were featured often in the media because both Amy and Ryan faced discrimination and rejection by those who let fear rather than science dictate their actions. Both died from the disease.
Ronald Reagan was president in 1981, but the first time he used the word "AIDS" in public was 1986. I am a Democrat, but I give a great deal of credit for the rapidity of Indiana's response to then-Gov. Robert Orr, a Republican. While there were some who wanted to depict AIDS as "just desserts" and condemn the behavior of homosexuals, Orr asked his board of health to give Hoosiers the best information available, and he signed legislation that changed the way we treated schoolchildren with communicable disease.
I also give a great deal of credit to President George H.W. Bush for enacting the President's Emergency Plan for AIDS Relief, which recognized the global nature of the epidemic, and provided serious funding to treatment programs in sub-Saharan Africa and other countries where HIV infects and AIDS kills far more people than in the United States. HIV does not respect party affiliation. It will continue to take a bipartisan effort to defeat it.
We know we can treat new mothers and prevent transmission to their infants. We know that condoms, while not perfect, are effective barriers in sexual transmission and we know that injection drug users remain at significant risk when they share needles and other drug-injection equipment.
We've invested billions of dollars in research from taxes as well as philanthropy and we've made huge progress in the last 30 years. We now have multiple effective treatments that in most patients will put the virus into a dormant phase that can last for many years. We are working on pre-exposure prophylaxis that will keep uninfected people uninfected. And a tremendous effort to find an effective vaccine continues around the globe. The problem with creating a vaccine is that the virus continues to mutate, thus creating a "moving target," making vaccine therapy much more difficult.
Research is paying off; prevention is working better than before; fear and discrimination have lessened. But we have still got a long way to go.•
__________
Myers is a former chief medical officer for WellPoint Inc. and served as health commissioner for Indiana and New York City. Send comments on this column to ibjedit@ibj.com.
Please enable JavaScript to view this content.