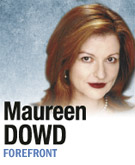 I guess you don't get to be the richest man in Saudi Arabia without being able to sum up a situation quickly.
When I called him in Riyadh, the Arabian Warren Buffett, as the billionaire Prince Alwaleed bin Talal bin Abdulaziz al-Saud is known, was quite definite in his views on allowing Saudi women to drive.
"We're not calling for diplomatic relations with Israel," he said. "We're just asking for ladies to drive the car. Even in North Korea, women can drive."
Of course, Prince Alwaleed is a pillar of modernity in the medieval kingdom. In his skyscraper office in Riyadh, women in tight jeans and suits work side by side with men, something that is forbidden elsewhere.
The prince made a point of hiring a woman, born in the holy city of Mecca, and training her to be the pilot of his private jet.
"Ladies can fly above but not drive on the street," he said dryly, noting: "My wife … is an excellent driver—better than me, for sure."
In the '50s, at the height of the American mania for jokes and TV skits about ditzy women behind the wheel, there was a saying: "Women drivers, no survivors."
In 1990, 47 women from the Saudi intelligentsia were so inspired by U.S. troops—and female soldiers—gathering in the kingdom for the first President Bush's war against Saddam that they went for a joy ride to protest Saudi Arabia being the only country where women can't drive.
The fundamentalist clerics branded the women "whores" and "harlots." Their passports were revoked and they had to sign papers agreeing not to talk about the drive. When I interviewed some of them 12 years later, they were only beginning to shake off the vengeful backlash.
For all the highfalutin talk of George and Laura Bush about how W.'s wars would help expand the rights of women in the Middle East, there's only so much pressure America can put on Saudi Arabia about letting women drive without jeopardizing the flow of oil that lets people drive here.
Driving may not be as important an issue as the end of male guardianship, but it is the high-octane nexus where our hypocrisies interlock.
The latest drive to drive started last month, a Twitter and Facebook feminist blossoming in the Arab Spring, following a Saudi "Day of Rage" in March where nobody showed up except the police.
King Abdullah passes for progressive in Saudi Arabia. (He just passed a decree allowing women, instead of men, to sell women lingerie.) Frightened by the uprisings all around him, he snuffed out wisps of democratic protests the Saudi way: with his checkbook. After the "Day of Rage" fizzled, he rewarded his complacent citizens with $130 billion in salary increases, new housing and financing for religious organizations.
But then a 32-year-old single mother named Manal al-Sharif, an Internet consultant for the state-run oil company Aramco, posted a video of herself on YouTube, driving in a black abaya in the Eastern Province city of Al-Khobar.
She told CNN that the last straw was one night when she was trying to get home to her 5-year-old son and she couldn't catch a cab or find her brother to pick her up or get away from male drivers harassing her as she walked alone.
She was put in jail for a week and forced to sign a document agreeing not to talk to the press or continue her calls for reform.
But, later this month, Reem al-Faisal, a princess, activist and Jidda photographer who is the granddaughter of the late King Faisal and the niece of the Foreign Minister Saud al-Faisal, spoke out, writing in The Arab News that "it is truly tragic that we have to fight for such an essential yet mediocre right" and be treated as "eternal minors."
She suggested that women simply drive pollution-free camels. Except then men would "deny women camel-driving rights, too."•
__________
Dowd is a New York Times columnist. Send comments on this column to ibjedit@ibj.com.
Please enable JavaScript to view this content.