"Is this a chain?" my guest asked as we entered Fireside Brewhouse (997 E. County Line Road, Suite B, Greenwood, 859-9509) for a late-ish lunch.

It isn't. But her question made me wonder what it is that makes an eatery feel less one-of-a-kind and more one-in-a-series. A derivative or overtly generic atmosphere can give a chain impression. But surprises on the menu can counter that.

With a sprawling dining room, central bar, tasteful but forgettable décor, and strip-center location, you could be in Tucson, you could be in St. Louis. And the portion sizes seem out of the fun-drink-eatery playbook.

However, Fireside Brewhouse also has some tricks up its culinary sleeve.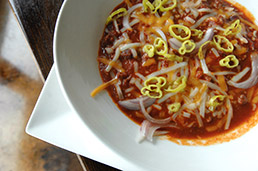 Chili anchors many a bar menu, but the Texas-style Bloody Mary Chili at Fireside Brewhouse transcends. (IBJ Photo/ Perry Reichanadter)
Fireside M-80s ($10.50)—Florida fried shrimp in a sweet chili-garlic sauce served frittes-style, was certainly appetizing—although there were fewer than met the eye. Turns out they were propped up by a hidden pile of coleslaw. Bloody Mary Chili ($4.99/$6.50) offered a surprising depth of flavor (I say "surprising" because so much of what gets boasted about in bars seems either bland or bland-plus-excessive-chili-powder. Not the case here.)

For an entree, my guest went for the Parmesan Crusted Tilapia ($14.99), but we disagreed on the execution. She found it forgettable ("For the calories, I'd rather eat the pizza"), while I was more than willing to take home her leftovers of the more-than-ample portion. Parked on a bed of Parmesan risotto and surrounded with fresh vegetables, it might not be an attention-getter, but it was surprisingly subtle—and filling.

We shared the B.L.T. Pizza ($9.99) for a little variety, wondering how one successfully incorporates lettuce into such a dish. Turns out one simply shreds it and piles it on top. Does it add anything to the more traditional combination of melted cheese and bacon lurking beneath? Not really. Does it make eating pizza more awkward than it ever should be? You betcha. We resorted to scraping most of the lettuce off, the better to get to the satisfying stuff underneath.

For dessert, we couldn't resist the Match Sticks ($6.99), delicious funnel-cake cousins sprinkled with powdered sugar and served with caramel, chocolate and raspberry sauces. It's pretty tough to botch fried dough dipped in anything, and Fireside doesn't.

With less put-upon service, a little feng shui in the dining room, and a reining in of the prices a bit (nothing in the "small plate" category of appetizers is less than $8.50), Fireside Brewhouse could actually become a chain. For now, though, it's an asset to Greenwood dining. And that's good enough for us.

Note: While it offers family dining through 10 p.m., Fireside Brewhouse then transforms into a 21-and-over club, often with live music, karaoke or deejayed entertainment.•

__________

Last in a month-long series of reviews of "heated" eateries.