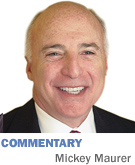 My mother was right.
That morning I had been sworn in as a new attorney admitted to the Indiana Bar. My father had always wanted me to become a lawyer. It was a proud day. I was sitting with my mother and my new bride at the Embers restaurant on North Meridian Street enjoying a celebratory lunch. Janie and I were broke but at the same time excited about our future.
We were discussing career options when my mother diverted our attention to a gentleman in his late 30s a few tables away. "That's Sidney Eskenazi. He also graduated from Indiana University in Bloomington. He started out with nothing and is in the midst of a promising career as a lawyer and real estate developer. You would do well to emulate him." It made sense. I had just spent a year working for apartment builder Gene Glick and enjoyed working in that field, so to speak.
More than four decades later, Eskenazi is still in the midst of that promising career. He has developed real estate, particularly strip mall shopping centers—a lot of them. He has accumulated massive wealth, and he intends to give much of it away. Sidney and his wife, Lois, recently joined the Simon family (IU Simon Cancer Center) and the Glick family (Glick Eye Institute) in bestowing eight-figure gifts benefiting our central Indiana health-services community.
The Eskenazis' gift of $40 million to the Wishard Hospital project in Indianapolis may be the largest donation to a municipal hospital. That hospital will bear his family name and in 2014 the entire Wishard system will be renamed Eskenazi Health.
This gift follows other significant Eskenazi donations to worthy institutions. In 2000, they supported the Herron School of Art in recognition of Lois' passion. She is an accomplished artist. One of her Indiana State Fair blue-ribbon-winning paintings has hung proudly in the IBJ offices for a number of years.
Eskenazi also endowed a scholarship at the Indiana University Maurer School of Law to benefit "C" students, claiming he was not a gifted scholar. According to a recent article in the Indianapolis Star, Eskenazi said if you were a good student, there was always some help available, but "who was there to help us dummies?" Let me say in the strongest of terms that statement is baloney. Eskenazi is as bright and sharp and street smart as anyone I have dealt with in my career. When you deal with Eskenazi, you better be prepared.
After a few years in practice, I had an opportunity to make a large gain in a complicated real estate transaction—my first big deal. Although I was trained as a tax lawyer, I nonetheless remembered my mother's advice and sought counsel from Eskenazi. It did not take him long to understand and help me structure the transaction to create the most advantageous after-tax results. He did not charge me a dime.
Parents should be confident that their children are launched and financially secure before embracing the roles of philanthropists. The Eskenazis have three grown children, all bright and embarked on careers of their own. David, the only son, also earned a law degree. He runs the family business, Sandor Development. While in school, he worked for our cable television company and was a better salesman than all of the full-time personnel. Sidney could not ask for a better succession plan than son David.
Eskenazi enjoys developing real estate and he loves to negotiate. At 81, he remains active. Like others of his ilk, he has learned that there is more to entrepreneurship than the money that is earned. Entrepreneurship is a grand game and money is simply a means of keeping score. The essence of entrepreneurship is the joy of the game.
I hope Sidney Eskenazi continues to enjoy the game for many years as he will undoubtedly continue to share his wealth with all of us in the Indianapolis community.•
__________
Maurer is a shareholder of IBJ Corp., which owns Indianapolis Business Journal. His column appears every other week. To comment on this column, send e-mail to mmaurer@ibj.com.
Please enable JavaScript to view this content.