Tomisue Hilbert might never know whether a $15 million life insurance policy had anything to do with her mother's death three years ago.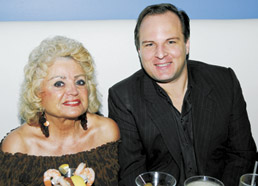 Suzy Tomlinson and J.B. Carlson partied at the Blu Martini the night before her death. (Photo/Doug Pritchard)
But her attorneys suggest she'll at least get the satisfaction of knowing that J.B. Carlson—the would-be beneficiary and the person she feared played a role in her mother's death—won't get a payday.

Hilbert, Carlson and Houston-based American General Life Insurance Co. quietly settled a 3-year-old lawsuit last month over whether the policy issued in 2006 was valid, and whether Carlson committed fraud.

Though terms are confidential, attorney Judy Woods issued a statement from Tomisue Hilbert, wife of Indianapolis businessman Steve Hilbert, suggesting Carlson did not benefit.

"We are glad that we were able to reach a settlement and preclude the wrongdoers from profiting at the expense of our mother," Hilbert said in the statement.



Asked to comment on Hilbert's statement, a Carlson representative said in a fax: "Given Tomisue Hilbert's long history of using conjecture to mischaracterize throughout, Mr. Carlson is not surprised.

"Tomisue has apparently decided that she no longer wishes to abide by the terms of the settlement she signed. ... Notwithstanding Tomisue's behavior, Mr. Carlson will continue to honor the agreement."

Carlson had argued that the Tomlinson policy was a legitimate form of "key man" insurance. Tomlinson had served on the board of his company, Carlson Media Group, and later helped him meet potential investors, including her son-in-law Steve Hilbert.

But Tomisue Hilbert and American General said Carlson had duped Tomisue Hilbert's mother, Germaine "Suzy" Tomlinson, into taking out a controversial form of coverage known as stranger-owned life insurance, or STOLI, that effectively allows outside investors to wager on when an insured person will die.

Carlson, 37, was the trustee and beneficiary of the Germaine Tomlinson Insurance Trust, which took out the policy in January 2006. Carlson was nearly $6 million in debt and staring down the deadline on a $1.3 million payment related to financing the policy's huge premiums when Tomlinson died on Sept. 28, 2008.

Tomlinson's family found the 74-year-old fully clothed, face down in her bathtub, where she had apparently fallen after a night of drinking and dancing with Carlson at Blu Martini. Carlson had driven her home and was the last person to see her alive.

Investigators ruled Tomlinson's death accidental. But Tomisue Hilbert was suspicious about the death—especially after learning in early 2009 about the existence of the $15 million policy.

She found out about the policy after American General sued to invalidate it, arguing that Carlson and Nevada insurance broker Geoffrey A. Vanderpal committed fraud in the insurance application by making it appear the coverage was solely for the benefit of Tomlinson and her family.

Tomisue Hilbert later intervened in the suit and sought $45 million in damages, saying the insurer had turned a blind eye to fraud.

In her statement on the settlement, Tomisue Hilbert said: "The most important thing to our family was to make sure that the interests of our mother were protected. We are pleased with the outcome, and that we were able to draw attention to the predatory behavior involved in the Stranger-Owned Life Insurance business."

Hilbert is one of Tomlinson's five children and the personal representative of her estate. Her husband, Steve, co-founded Conseco Inc., since renamed CNO Financial Group, and now runs the private equity firm MH Equity.

Insurance expert Joseph Belth, a professor emeritus at Indiana University, said American General's oversight in issuing the policy appears to have been extremely lax.

"The question is, 'Where the hell were the underwriters?'" said Belth, editor of The Insurance Forum newsletter.

Belth believes lax underwriting standards fueled the market for STOLI policies. Indiana banned issuance of new STOLI policies in 2008, two years after the Tomlinson coverage went into effect.

In a typical scheme, an elderly person would take out a policy, then sell it to an investor. The sooner the insured died, the better the return.

Tomlinson's policy application said she had assets of more than $40 million. In fact, according to an inventory Hilbert filed in her mother's pending probate case, she had household goods and furnishings worth just $300 and $729 in checking accounts.

During discovery in the court case, Hilbert also learned that Vanderpal, the Nevada insurance agent who worked with Tomlinson on her policy application, did not have an arm's length relationship with Carlson.

The pair had met when they were high school students attending an "entrepreneur camp" in Wichita, Kan. In addition, Vanderpal owed Carlson's company money from his unsuccessful 2006 run for Nevada treasurer.

"The point is, the policy was issued on all kinds of fraud," according to Belth.

It's unclear what Carlson does for a living now. Carlson Media Group has been inactive since March 2008, but he maintains concierge office services at 101 W. Ohio St.

Woods said the parties in the case, which included Vanderpal and the companies involved in financing policy premiums, voluntarily entered settlement talks early this year.

U.S. District Court Judge Sarah Evans Barker signed off on the settlement May 25.•