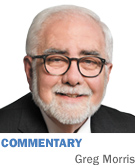 As I look out of my office at the corner of Washington and Pennsylvania streets, I see orange and white everywhere. Maybe the flash of color is from throngs of people in town showing off their school colors at one of our many sporting events? No.
After another look, I've determined my view (and path) is obstructed by orange and white road construction barrels for as far as the eye can see. Construction is everywhere and has been for what seems like a long while.
It doesn't matter whether you are in the city, in the county, in the suburbs, or on state or interstate highways. You can't avoid it. And that has a lot of people complaining. I hear comments like, "I can't get anywhere in this city anymore. Don't they think about how people are supposed to get around before they shut down every major thoroughfare at the same time?" (Expletives omitted) I have to admit that on occasion I may have been guilty of similar comments.
But when I get upset, I have to remind myself what's going on and why. And when I stop to think about it, I'm able to bring my blood pressure down to a manageable level because what's going on here is all good.
Remember "Major Moves"? This is an ongoing initiative. In late 2005, Gov. Mitch Daniels launched an aggressive, 10-year, $10 billion transportation plan to significantly improve and expand Indiana's highway infrastructure. A good chunk of this money came from the long-term lease of the Indiana Toll Road. By 2015, statewide, 87 roadways will be completed or substantially under construction, 413 miles of new roadway will be constructed, 36 percent of the states' highways (4,000 miles) will be resurfaced, and 1,190 bridges will be rehabilitated or replaced. Of course, here in central Indiana, we are the recipient of our fair share of these projects.
In Indianapolis, Mayor Ballard has detailed over $140 million in infrastructure investments in 2011. This is part of the Rebuild Indy initiative made possible by proceeds from the city's pending sale of Indianapolis Water to Citizens Energy Group. The Rebuild Indy initiative is designed to restore deteriorating thoroughfares, residential streets, sidewalks and bridges, as well as fix drainage and flooding issues. In addition, unsalvageable and abandoned homes that pose a public safety threat in neighborhoods will be demolished.
Published weekly on the Rebuild Indy website, you'll find an updated list of construction projects. This week's list is nine pages. Looking at all the construction barrels around town, you don't need a detailed accounting to figure out that 2011 is the busiest road construction year on record in Indianapolis.
Concurrently, construction continues on the Indianapolis Cultural Trail—A Legacy of Gene and Marilyn Glick. The Indianapolis Cultural Trail is an urban bike and pedestrian path that will wind through eight miles of downtown connecting neighborhoods, cultural districts and entertainment amenities. The trail is being built over city right-of-ways with $62.5 million in private gifts and government grants.
Along with other sections, the central corridor of the Cultural Trail is under construction along the north side of Washington Street from Alabama to West streets. Simultaneously, utility relocations are wrapping up on Washington from West to Delaware. The disruption sometimes causes long traffic backups.
As a side note, there seems to be a lack of general understanding about what the Cultural Trail is all about, even though a lot of information has been disseminated. And with all the construction from various initiatives, the Cultural Trail occasionally gets too much blame for the congestion. As a result, some folks can't understand why it was a good idea to take away a lane of traffic for autos and give it to pedestrians and bicyclists. I'll try to address that in a future column, but for now, please know this project provides a great asset for Indianapolis.
So, take heart my friends. The traffic delays created by all these projects won't last forever. Those orange and white barrels will eventually diminish. Admittedly, it seems the current construction phase is over the top. But patience is needed for the foreseeable future. The results will justify the current inconvenience.•
__________
Morris is publisher of IBJ. His column appears every other week. To comment on this column, send e-mail to gmorris@ibj.com.
Please enable JavaScript to view this content.