When you see the flimsy banner not quite covering the fancier sign of the previous owner, when your menu choices are featured on paper covering an old menu board, when you click on the website where there's little besides the menu and some inaccurate prices, you could conclude that Eagle Creek Pizza (5510 Lafayette Road, 290-1122) isn't ready for prime time.
But there's another possible interpretation—one I'm embracing now that I've indulged in a meal from Eagle Creek.
That interpretation: The locally owned pizza purveyor is putting all its efforts into creating customer-pleasing fare. The rest—the cosmetic stuff—will come later.
From its predecessor, Eh! Formaggio, Eagle Creek Pizza inherited the brick oven that helps make its offerings distinct from those of the ubiquitous chains. Its cornerstone pies ($14.99, $18.99) come with three toppings of your choice and the management kindly allowed us to divide ours, half for the carnivores (paper-thin slices of pepperoni, small chunk hamburger, and fresh tomatoes) and half for the herbivores (spinach, mushrooms and peppers).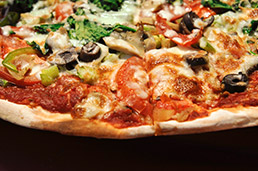 The California pie at Eagle Creek Pizza comes loaded with fresh veggies piled on a delicious crust. (IBJ Photo/ Perry Reichanadter)
Pre-set ingredient combinations are also available. Under the Specialty Pie category, the California ($16.99) doubles down on the garden stuff. A Filet Mignon Pizza ($24.99) includes caramelized onions and gorgonzola. And a Pesto pie ($15.99) includes goat cheese and olives. All are served on a delicious crust that isn't quite consistently capable of supporting the weight of the toppings. At least, initially. A few bites in, though, and we were able to fold and hold.
As if our pie choices didn't offer enough dough, tomato sauce and cheese, we ordered a Panzarotti ($14.99), a massive creation that, in its box, looked like a science project scale model of Madagascar. The house version comes with pepperoni and/or sausage (I come down on the "and" choice), cheese and sauce both inside and as a pour-on topping or dip.
The Greek salad ($7.99) and a Traditional Caesar Salad ($6.99—although if it doesn't have anchovy filets, is it truly traditional?) were both ample and well-proportioned.
There are snacks, including Buffalo Wings and Crab, Spinach and Cheddar Dip, as well as sandwiches (Hot Pastrami and Muffelata among the usual pizza shop choices). But it's the quality of the pies that should lead Eagle Creek Pizza to hang a permanent sign.•
__________
First in a month-long series of reviews of newish pizza places.
Please enable JavaScript to view this content.