The vintage Ford Mustang in the garage at C&C Medical Solutions Inc. is a reminder the Noblesville-based ultrasound parts supplier is a family business—the car is co-owner Chris Turner's pet project—but it's also a testament to the role Turner and his wife and business partner, Chrystal, play in the medical imaging industry.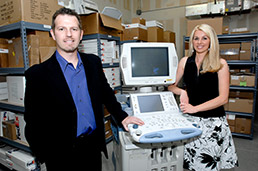 Co-owners Chris and Chrystal Turner say health care reform has affected Noblesville-based C&C Medical Solutions Inc., but annual revenue should remain at about $2M. (IBJ Photo/ Perry Reichanadter)
When a doctor, hospital or clinic turns in an ultrasound system at the end of a lease or defaults on a loan, C&C scoops it up to sell it for parts, much like the used-car parts brokers Chris tapped to restore his muscle car to its original beauty.

With $10,000 in personal savings as startup capital, the couple operated C&C for the first six months without inventory, acting only as a broker to clients who followed Chris from his previous sales position at GE Healthcare. It took just one year in business to start building a stockpile of used machines.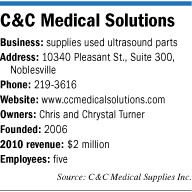 When a new ultrasound system can cost upward of $200,000, the Turners are profiting from a struggling economy in which caregiver budgets are much more likely to allow new ultrasound parts than a complete system. However, more parts are now going to international clients than domestic, a shift the couple blames on health care reform.

When the Turners established the business in 2006, 70 percent of their buyers were domestic and 30 percent were overseas. Beginning in 2010, the client demographic has flip-flopped to include 60 percent international sales and 40 percent domestic.

Chris said between the stronger overseas market and the exchange rate, the international sales have allowed C&C to maintain a 30-percent profit margin despite a 20-percent drop in revenue in the second quarter compared with the same period in 2009. While the switch has been only beneficial for C&C, (Chrystal projects their $2 million in 2010 revenue will hold steady, if not increase in 2011), Chris believes it's evidence of a larger problem in American health care.

"Since the health care reform, hospitals and caregivers are receiving less insurance compensation and fail to see the profit potential in the future of the industry," Chris said. "We've seen a major exodus."

Some physicians and other caregivers are retiring or leaving the business, and those remaining are cutting costs.

Domestic caregivers are keeping ultrasound equipment longer in order to avoid higher payments for a trade-in at the end of a lease, Chrystal said. Normally that would be good for business, she said, but caregivers are deferring even routine maintenance. As a result, replacement parts for ultrasound equipment seem to be ranking lower and lower on the budget priority list.

The Turners didn't anticipate a majority business in overseas sales, but they say it happened naturally. As the value of the dollar declines, European countries can get imaging parts cheaper from the United States, even when taking into account shipping costs.

Bruce Frank, a local life sciences technology consultant, acknowledges lower reimbursement rates have made caregivers pay closer attention to where their money is going, and compared the market for used medical equipment to that of used cars.

"I read recently [that] used car sales are higher than new for the first time in ages," he said. "It's the same thing in health care; the American standard of living is declining."

The Turners believe American health care providers are still learning how to cut budgets without affecting quality of care, which means more doctors and hospitals could be turning to used equipment in the future.

"When I hear about the [Indiana Heart Hospital] making a large imaging purchase, I cringe," Chrystal said. "I know we could have saved them a bundle if we'd known what they were looking for."•