Tom Campbell and Eric Ellsworth think they've seen a piece of the future of health care, and it's hospital-health club collaborations known as medical fitness centers.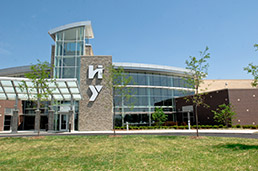 Hendricks Regional YMCA, which opened in Avon last month, offers one-stop fitness and wellness services—something observers think will be increasingly prevalent in the future. (IBJ Photo/ Perry Reichanadter)
Campbell runs one—the 13-year-old Westview Healthplex Sports Club, which is connected to Westview Hospital—and Ellsworth, president and CEO of the YMCA of Greater Indianapolis, oversees the newest one: Hendricks Regional YMCA, which opened in Avon on June 26.
The thought behind these facilities is, "Cardiac and cardio … in one stop," as they boast online.
"One of the things I like about medical fitness centers is the continuum of care," Campbell said. "Hospitals do a great job of fix-'em-up. On the fitness side, we can stress prevention, health benefits and health education."
Some 1,100 medical fitness centers exist now in the United States—about a dozen in Indiana—compared with 30,000 health clubs, Campbell said. But with the push on for wellness and prevention, more and more hospitals want to get into fitness to expand their reach.
Hendricks Regional Health first considered a medical fitness center in 2005. The idea was to operate its own fitness center with doctors, a lab, X-ray equipment and more—based somewhat on the Westview model. The plan was shelved until 2007, when YMCA management approached the hospital about donations for a fitness facility in Hendricks County.
After some talks, the decision was made to build the joint facility on a 72-acre parcel Hendricks Regional Health owns. The $22 million Hendricks Regional Health YMCA features a 118,000-square-foot building in what is being called Satori Pointe, branded as the "healthy living center of Avon." If all goes as planned, the development will be populated by compatible businesses like a senior-living facility and health-food stores.
Dr. John Sparzo, vice president of medical affairs for Hendricks Regional, expects the complex to create 250 permanent jobs over the next 10 years.
For now, though, the YMCA and hospital facilities are connected by a common atrium area—and common goals. For example, cardiac rehabilitation will be done on the floor of the Y, on separate equipment from, but in sight of, people working out. The physical therapy area has two doors that open to the wellness area.
The thinking is that when patients graduate from rehab and physical therapy, they'll become Y members. The Y offers diabetes prevention programs; those at risk will be referred to the hospital.
"I can't tell you how many opportunities I think there are to work like that," Sparzo said.
"We're trying to develop as many synergies together so people understand this is a place for holistic health needs," Ellsworth added. "So whether it's sick care or well care, if it's on the prevention side of the equation, it's probably going to be more YMCA programming and if it's on the rehabilitative side, it's probably going to be Hendricks Regional Health that has more of the program side."
Lindsay Willard, who runs the fitness center at the Monon Community Center in Carmel, said she can see the benefits of pairing a fitness center and hospital. The Monon Center and St. Vincent Carmel Hospital work together on numerous projects, including the Tour de Carmel bike ride, designed to encourage people to exercise and "promote wellness across the board."
"I'm a firm believer in the fact that you can do a lot for your health just by taking care of yourself," she said. "I'm not saying you have to run a half-marathon every weekend, but just the basic guidelines you hear of—30-60 minutes of exercise three to five times a week—can do amazing things for people."
When Westview Hospital decided to build the Healthplex Sports Club in 1998, its doctors of osteopathic medicine felt they needed to strongly reinforce health, fitness, wellness and prevention. So the Healthplex included a wide range of services that would take care of the body—such as cardio equipment, weights, aquatics—as well as an osteopathic manipulative therapy center, where patients can have their musculoskeletal system manipulated to help address stress, pain management and other issues.
It's hard to measure whether the facility is successful. Dr. Michael Barbara, medical director for the Healthplex, said building the sports club helped the hospital "maintain a strong presence in the city" and "validated us as taking a stand for health and wellness."
He said the Healthplex isn't a huge financial success, but it pays for itself. Membership is stable and use of the facility is good. There haven't been any studies to suggest whether it has improved health or brought medical costs down.
But anecdotally, Barbara tells stories about a diabetic patient who came to him in 2009 significantly overweight and in need of strong medication. He gave her the choice to increase her dosage or try diet and exercise. She chose the latter and this year walked the Mini-Marathon—"something she couldn't have come close to doing a couple of years ago," he said.
Barbara said he hasn't added patients because of the Healthplex, but he likes the idea of people walking into the hospital seeing a wellness center.
"Whether that rubs off on people or not remains to be seen," he said. "But I think it does, indirectly."
And if Westview's Campbell and the Y's Ellsworth are right, more people will be seeing what they're already seeing.
"Right now, we're finding that strong partnerships are how we're getting things done," Ellsworth said. "We've been on the prevention side of health for decades and decades, and of course the hospital has been on the healing side of health care for so many years. It seems like this is the perfect combination of two organizations working within their sweet spot to accomplish the greater good for the community."•
Please enable JavaScript to view this content.