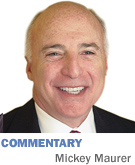 Who was Snooky Hendricks?
While visiting the Indiana Historical Society's "You Are There 1968: Robert Kennedy Speaks" exhibit, I learned that in attendance on the evening more than 40 years ago were Hoosiers who went on to remarkable careers. The group included Indiana Supreme Court Justice Theodore Boehm, Commissioner for Higher Education Teresa Lubbers, late congresswoman Julia Carson, City-County Councilor Rozelle Boyd and Indiana state legislator William Crawford. The exhibit also mentions that Charles "Snooky" Hendricks was in the gathering, which made me wonder, "Who was Snooky Hendricks?"
Snooky Hendricks was an urban legend and, as urban legends go, much of what I learned and am imparting to you may not be true at all. Snooky had two loves in his life: women and heroin. His propensity for proliferation knew no bounds. He fathered 26 children of various hues, religious affiliations and nationalities. Snooky couldn't kick the drug addiction he picked up in the armed forces. It led to crime for which he spent a few years in the Indiana State Prison in Michigan City and the federal pen in Terre Haute.
Snooky established The Black Radical Action Project, the first black militant organization in Indianapolis, and was active in the 1960s anti-war demonstrations and protests at the City-County Building. At his bookstore at 22nd and Meridian streets, near Tutwiler Cadillac, he had numerous community meetings and entertained national leaders, including Black Panther party members Eldridge Cleaver, Huey Newton and Fred Hampton. The Black Panthers was an African-American movement that advocated equality and fairness coupled with an armed response to social injustice. Cleaver, while incarcerated, authored the New York Times best-seller "Soul on Ice." Newton and Hampton died violent deaths.
Shortly after becoming mayor, Richard Lugar visited a number of local black activists, including Snooky. They decided to take the young, charismatic mayor under their wing and tell him what life was really like in the inner city. Snooky invited the mayor to a meeting in the heart of the barrio. Snooky and fellow black activist Ben Bell told Lugar that they and a number of their compatriots were active in the local political process and, in fact, each of them had voted for Lugar's opponent—eight times. Lugar befriended this group. Snooky and the other young activists persuaded others that the black community would be well-served by working with Lugar. Snooky's claim that he could maintain the peace with Indianapolis blacks was rewarded with a job offer from City Hall. He accepted but lost the job soon after for allegedly selling drugs on the side.
On the evening of April 4, 1968, Martin Luther King Jr. was assassinated. Robert Kennedy was scheduled to speak that night at 17th and Broadway streets, and he kept the appointment in spite of advice to the contrary. Snooky and his followers were part of the assemblage. No doubt the Kennedy speech had a calming effect on the black community in Indianapolis that night, but also due to Snooky Hendricks' influence and work with Mayor Lugar, the hostility that plagued the rest of the nation did not erupt in the Indiana capital in the days to come.
According to Amos Brown, radio personality with Radio One's WTLC-FM 106.7, Snooky was an advocate for the African-American community, our city and its residents. Brown enjoyed his friendship with Snooky and the wisdom he gained. Brown added a phrase attributed to Jesse Jackson: "Snooky was conversant in the suites as well as in the streets."
It wasn't the women in his life that brought an abrupt end to this flamboyant personality. Snooky was murdered on March 17, 1997, near his home at 42nd Street and Boulevard Place after berating drug dealers for plying their trade in a residential neighborhood. He turned his back on the offending youths and paid the ultimate price. Although there were witnesses, no one was ever indicted.
That's Snooky. As Ripley used to say, "Believe it or not."•
__________
Maurer is a shareholder in IBJ Corp., which owns Indianapolis Business Journal. His column appears every other week. To comment on this column, send e-mail to mmaurer@ibj.com.
Please enable JavaScript to view this content.