I've got nothing against super heroes and wizards. In fact, I'm all for super heroes and wizards. It's just refreshing to go to the movies once in a while and see a film that doesn't involve super heroes and wizards.
If you are of the same belief, consider a visit to this year's Indianapolis International Film Festival, which runs at the Indianapolis Museum of Art July 14-24.
Fans of the IIFF learned long ago that there's always a wide range of offerings, from movies that could easily slip into a commercial multiplex to those that wear their independent hearts on their low-budget sleeves. Documentaries and narrative features from around the world share space with innovative shorts and oddball experiments. This year, you could classify some as science fiction, others as "chick flicks," and still others as propaganda.
With a range like that, doing a bit of homework is key. Before you go, take some time and click through the complete list of films at www.indyfilmfest.org.
To get you started, I made an effort to see as many IIFF films as possible before the fest in order to offer some recommendations. Alas, not as many were available for preview as in previous years. Still, here are some picks you should consider. This time, I ignored ones that, in previous years, I would have labeled "Skip."
 
Above, one of the couples on the brink of pregnancy in "Conception." (Photo Courtesy Indianapolis International Film Festival)
Remember to chime in on my blog at www.ibj.com/arts on You-review-it Monday to let us know what you thought of these or any other IIFF films.
"Conception"
Don't look for storks in this playfully detailed omnibus film about nine couples on the brink of insemination (by one means or another). That writer/director Josh Stolberg can juggle all the stories—and keep most of them interesting—should make this a strong calling card for future film work. More important, for audiences, this could be the perfect festival introduc-
tion, with familiar faces (Julie Bowen from "Modern Family," David Arquette, Jonathan Silverman and the always solid Alan Tudyk from "Firefly") mixed with lesser-knowns. I'm not sure if I'd recommend it for a first date, but other mature audiences should connect with "Conception."
"Another Earth"
Emotionally right if logistically loopy, this dramatic film wraps science fiction trappings around the redemption tale of a young woman who causes a horrible accident at the same time the title planet appears. The anchoring performance by Brit Marling helps fight the obvious questions. (Not the least among them: Wouldn't this planet, oh, throw everything in our end of the solar system out of orbit?) Her grief and guilt feel painfully true throughout. And the film's final, stunning moment offers both beauty and intriguing questions. (Note: "Another Earth" opens the festival and screens only on July 14.)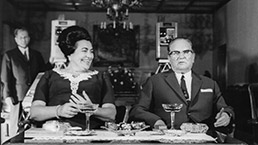 Yugoslavia's first couple kept filmmakers busy, as shown in "Cinema Komunisto." (Photo Courtesy Indianapolis International Film Festival)
"Cinema Komunisto"
What happens when a powerful world leader truly, deeply and maybe a bit madly loves movies? This strong documentary explores the rise and fall of Yugoslavia under Josip Broz Tito. The avid film fan (his personal projectionist, whom we see here, kept track of the thousands shown to him) not only watched movies, but wanted his country to be a center of film production. And when the time came to make a film of his early military career, Tito hand-picked Richard Burton to play the lead. Sprinkled with appearances by the likes of Burton, Orson Welles and Sophia Loren, the film's power lies in the memories of those interviewed.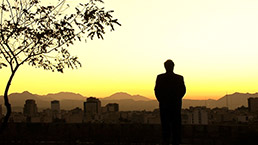 Made on the run, "Dog Sweat" offers insight into Iranian life. (Photo Courtesy Indianapolis International Film Festival)
"Dog Sweat"
You'll be forgiven for not losing yourself in this fiction film about young people in Iran. That's because, if you are like me, you won't be able to shake how remarkable it is that the film was shot at all. Made secretly in bits and pieces (and with actors occasionally losing their nerve and bowing out), it may not all add up narratively, but the characters are rich and the look at the details of life for unremarkable people inside this largely-unknown-to-Westerners country makes this well worth the time.
"Turkey Bowl"
Once you get past the annoyingly overwritten, guy-talk opening, "Turkey Bowl" takes on an interesting, unique life of its own, helping it rise above the seemingly endless parade of indie "mumblecore" movies about aimless twentysomethings. The premise: A group of friends—and a couple of strangers—play a game of touch football. And first-time feature director/writer Kyle Smith has the guts to let the game and its between-downs interactions play out in real time, building to a satisfying un-Hollywood finish.
"Madly in Love"
Put this much infidelitus bed-hopping in an American urban drama and audiences would be tsk-tsk-ing all the way home. Put it in a French comedy stacked with beautiful people and give it a whimsical, "Amalie"-like narrative and it's all OK, of course. If you're looking for a romantic bon-bon that's low on nutrition and high on sweetness, this one's for you.
____________
While the above represents the cream of what I was able to see, other IBJ staffers also screened some IIFF films, resulting in the following recommendation:
"Summer Pasture"
Much like the Tibetan nomad lifestyle the film captures, there's nothing fancy about this documentary. Devoid of a narrator or any type of soundtrack, watching Locho and his wife, Yama, go about their daily lives is nonetheless fascinating, mostly when Yama collects sun-baked yak dung to fuel their winter fires. The modern world threatens to end their way of life—and that may be progress—but by the film's conclusion you'll find yourself mourning this end of an era almost as much as they do.
—Gabrielle Poshadlo
"Annabelle and Bear"
An inspirational story of one man's life colliding with his daughter, whom he hasn't seen in years. The familiar pleasure comes from watching his tough exterior melt away as she slowly wins him over with unconditional love.•
—Perry Reichanadter
Please enable JavaScript to view this content.