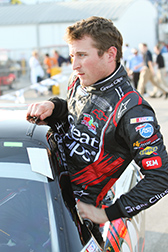 NASCAR star Kasey Kahne is one driver IndyCar officials would be happy to see accept the challenge to enter and win the series' season finale in Las Vegas. (AP Photo)
IndyCar Series CEO Randy Bernard is so driven to increase race attendance and television ratings, he's considering taking control of more of the open-wheel circuit's races to make that happen.
He's also threatened, perhaps a bit tongue-in-cheek, to resign if the IndyCar Series-run finale in Las Vegas Oct. 16 doesn't triple the TV ratings from last year's finale in Miami, which earned a 0.3 on the Versus cable channel.
"If we do a 0.3 on this, I'll quit. Right there on the spot. I'll literally quit on the spot," Bernard told the Toronto Star. "If we do a 0.8, I'll quit. On the spot."
The comment made earlier this month has gained much attention in the open-wheel world, with some IndyCar team officials and insiders wondering if Bernard is planning his exit strategy.
To the contrary, Bernard said he's going nowhere.
He said he made the proclamation about TV ratings for the race at the Las Vegas Motor Speedway not because he's planning his exit, but because he is "very confident" he and his staff can draw a much stronger TV audience than last year's finale.
"I have a five-year contract, and I'm here for the long term," Bernard told IBJ, while taking a break from sponsor talks and series meetings in California earlier this month. "I think the Hulman-George family is happy with the job I'm doing, and I'm enjoying the job. But I'm not here just to collect a paycheck. I want things to happen sooner rather than later. And I think I should be held responsible for the job I'm doing."

Bernard called last year's finale rating "unacceptable" and "pathetic." According to New York-based Nielsen Media Research, each rating point equals 1.1 million households, meaning the Miami race was viewed in 330,000 households nationwide.
"We need to bust out and make a rating that makes us proud and that is acceptable to our sponsors," Bernard said. "I think a 1.2 rating is a reasonable goal."
This year's season-ending race airs on ABC, which should be a big advantage over last year's cable-broadcasted finale.
The IndyCar race, which airs at 3 p.m. on a Sunday, will not be pitted against a NASCAR race, but will have to contend with a National Football League game if the NFL lockout has ended.
"A 1.2 is reasonable, but it's a long way from a sure thing," said Matt Morchower, founder of Varsity Entertainment, a New York-based broadcast consultancy. "Look at the series' previous ratings this year, and you can see it's not a slam dunk. And they'll face considerable competition if the NFL season is under way."
Only one of three IndyCar races on ABC so far this season has broken the 1.2 mark—the Indianapolis 500 on May 29 earned a 4.03. The Honda Grand Prix on March 27—the season opener—earned a 1.19, and the Milwaukee 225 on June 19 earned a 0.83.
Las Vegas leverage
Bernard thinks he has several aces up his sleeve to make good on his Las Vegas promise.
ABC has said it will promote the race. And Bernard has relationships with Las Vegas tourism officials from his days as CEO of the Pro Bull Riders circuit that he intends to leverage. Bernard also has lined up sponsors willing to promote the race. He said he will announce a "big partner" in Toronto this month.
Bernard also is offering $5 million to any star driver who is not an IndyCar regular who can come in and win the race. It's a move Bernard thinks will draw much attention to the race, which is being billed as the IndyCar Series World Championship.
Bernard expects to make at least one major driver announcement this month about non-IndyCar racing stars that will take part.
Possible candidates to accept Bernard's challenge range from NASCAR driver Kasey Kahne to motorcycle racer and X-Games star Travis Pastrana. But Bernard declined to tip his hand.
One driver that won't be taking up the challenge is former Formula One and NASCAR driver Scott Speed, who has been rumored to be in line to race in Las Vegas. Bernard said he hasn't heard from Speed since his failed attempt to qualify for this year's Indianapolis 500.
"The whole point is to bring in some of the best drivers from around the world to show them and [the viewing audience] how good our [IndyCar] drivers are," Bernard said. "This isn't a circus. We're not taking all comers. We want the best drivers to come and challenge our drivers. We think our series' drivers are that good."
Bernard said 26 drivers inquired about taking part in the Las Vegas challenge, and seven sent him applications.
"We're ready to make our selections," Bernard said.
Some IndyCar teams and drivers have complained that the money Bernard is setting aside for the promotion should instead be given to teams and drivers already committed to the series. Bernard has rebuffed that.
"It's time to shake things up," he said.
Event takeover?
Bernard
To shake things up, Bernard said the series may have to take over operations and marketing of some of the series races. Sanctioning bodies like the IndyCar Series usually rely on track operators and outside promoters to handle operations, ticket sales, advertising and getting the host city engaged with the race. Currently, the series is involved in operations only at Indianapolis and Las Vegas.
Dealing with weak promoters is nothing new for Bernard, and he has a history of taking over when he thinks he can do better.
"We had the same problem with the [Pro Bull Riders] in '95, so we took over most of the events by 2000," he said. At PBR, Bernard saw attendance and TV ratings skyrocket.
Tim Frost, a Chicago-based motorsports business consultant, said taking over race operations is a big gamble for Bernard.
"It can cost $3 million to $5 million to do a street or road race," Frost said. "It's a bit less to do an oval race, but it's still a major financial commitment.
"He better make sure he has the expertise to handle things like ticket sales, corporate hospitality, sponsorship sales, and food and beverage," Frost added. "There are a million details to deal with beyond just advertising an event, and if you don't execute those things right, and you're operating a number of races, you can lose a lot of money in a hurry."
Bernard's fury came to a boil in the wake of the Milwaukee race, which drew a crowd estimated at 13,000. Bernard said the promoters' inexperience led to poor TV ratings and attendance.
"I screwed up big time," Bernard said. "I wanted that race so bad, I brought in a promoter that didn't have the experience needed."
While Bernard said it's clear IndyCar officials either have to find strong promoters or take over races, he said it's "premature to say which direction we'll go with that."
A major factor in television ratings is which TV network the races are on. While the majority of the series' events will air on Versus through 2018, a handful of races each year appears on broadcast TV.
The series' agreement with ABC expires after the 2012 season, and Bernard and his staff are in exclusive talks with that network through the end of this month. Bernard declined to comment on the talks with ABC. Nor would he discuss the series' relationship with NBC.
There's been much speculation that Bernard would move IndyCar races to NBC following Comcast Cable's purchase of that network. Philadelphia-based Comcast also owns Versus, which is being branded as an NBC Sports property.•
Please enable JavaScript to view this content.