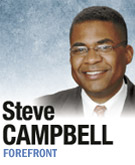 For those readers who live in suburban Indianapolis, this is not an attack on you. Just think of this as a pep talk for Indianapolis.
As a public relations professional and an instructor at the IUPUI School of Journalism, one line I repeat every day is a modern version of the old "tree falling in the forest" question: "We live in a media-driven world, for better or worse; and if you're not talking, you are invisible."
Several years ago, I went to the old Circuit City at Lafayette Square to buy a laptop. They didn't have the model I wanted, but said their Clay Terrace store had one in stock. Wanting to leave my dollars in Marion County, I paid there and jumped on Interstate 465 to pick up the computer in Carmel.
As I drove past miles of orange cones, I thanked my lucky stars I lived downtown. But in those few hours at and between the two malls, I realized that, without some serious promotional effort, Indianapolis neighborhoods were in danger of falling behind our suburban brethren.
Every other radio ad was for a new neighborhood and new home with a two-car garage and a half-acre of peace, love and goodness. At the same time, I was passing billboard after billboard selling the same message.
There's nothing wrong with this. It was before the real estate market crashed and, in fact, it's just good business. But there was one problem: All of these homes were outside the city.
So as I pulled into Clay Terrace, the allure of the suburbs hit home. Although a bit antiseptic, it was as nice a development as I had ever seen.
So as much as downtown snobs like me love ripping on the pretense and congestion of suburbia, there's something to be said for living north of 96th Street. The roads are newer, the schools are "better," and the taxes are lower. There's a Clay Terrace around every corner, and crime exists only on reruns of "Law and Order".
I had to ask myself why anyone would choose to live in an urban neighborhood like mine over the sparkle of suburban Indianapolis. But as I drove home, I breathed a sign of relief.
My odometer showed that I'd driven as far in that one trip as I had in nearly a month. I hadn't filled my gas tank in weeks. Our plentiful sidewalks connected me to my favorite park and coffee shop. Finally, I remembered I had only a five-minute trip to watch my Indianapolis Colts at the dome.
I concluded that there are, indeed, advantages to living outside Marion County. But I could recite just as many advantages to living in Nora, Eagle Creek, Wanamaker or Butler-Tarkington. We just aren't talking about them.
The campaigns for these new developments were essentially commercials for all these nice and livable communities outside the city. Indianapolis, of course, like most other big cities, is close to being built out, so we just don't have the same space for thousands of new homes and their attendant media buzz.
By the way, buzz works. When the city developed Fall Creek Place in 2001, we included a small marketing budget; Fall Creek Place sold out in less than a year.
Several efforts have tried to duplicate that success. While I was at the city, we created "Unsung Indy," an effort to market neighborhoods like Irvington, Ransom Place and Holy Cross as outstanding places to live, work and play. Our tiny budget evaporated in a heartbeat, and Unsung Indy barely got off the ground.
The Harrison Center for the Arts recently picked up the mantle with its new City Gallery, which has promise as a flagship for urban living.
The campaign just needs more support. That means private and, yes, public money, because we will sink in these media-dominated waters without it. Right now, the only ones talking are north of 96th Street.•
__________
Campbell, president of Campbell Strategies, was a deputy mayor under former Indianapolis Mayor Bart Peterson. Send comments on this column to ibjedit@ibj.com.

Please enable JavaScript to view this content.