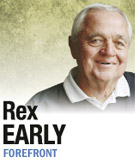 The state of Indiana hit a home run, and I don't mean a new factory and new jobs.
Something else has happened that is going to have a transformational impact on our children and our state.
Superintendent of Public Instruction Tony Bennett went to battle with the forces of the status quo and lived to tell the tale.
Bennett, a former high school coach, is a competitor. He even keeps a scoreboard in front of his office that measures the performance of Indiana's students against their national and global counterparts.
His leadership reflects a sense of urgency that quickly turns words into action. Bennett's stated vision is, "The academic achievement and career preparation of all Indiana students will be the best in the United States and on par with the most competitive countries in the world." How is that for shooting high?
The results show Indiana is headed in the right direction:
1. Indiana saw the highest growth in ISTEP+ scores and graduation rates in the state's history in the 2009-2010 school year.
2. Middle and high school teachers are now required to earn a major in the subject they teach.
3. Students now attend the entire 180 days taxpayers pay for.
4. Indiana had the second-highest growth in the country of students completing advanced placement courses in 2009-2010.
5. Indiana is the nation's leader in measuring student growth. The state's Growth Model gives credit to teachers and schools who drive tremendous student gains regardless of whether they pass or fail the ISTEP+ test.
6. Indiana no longer socially promotes students who can't read at grade level.
7. Indiana is implementing a more transparent A-F grading system.
8. Indiana is finally enforcing a 1999 statute that requires the state to intervene in chronically failing schools.
This year, Bennett joined forces with Gov. Daniels to pass the nation's most comprehensive education reform agenda. Highlights include:
1. A charter school law increasing the number of entities that can sponsor top-notch charter schools.
2. A voucher law providing means-tested scholarships to families seeking to send their children to the school that best meets their needs.
3. New legislation focusing collective bargaining on salary- and wage-related benefits and removing silly provisions from contracts that handcuff school leaders.
4. A bill that treats teachers like the talented and dedicated professionals they are by requiring annual evaluations that actually matter. The legislation also allows teachers to receive pay raises for excellent performance rather than just years of experience or degrees held.
There is going to be a tremendous impact on the Hoosier state's growth and economy. This vital infusion of competition, freedom and accountability will benefit our children for generations to come.
When a new industry is looking to locate in Indiana, we will no longer have to apologize for our underperforming schools. New residents will enjoy a vast menu of quality educational options for their children.
Businesses will come to Indiana because of these reforms. They will also thrive in Indiana with a work force prepared to meet the demands of a 21st century global economy.
These changes took place because we have a superintendent and governor with guts to take on the Indiana State Teachers Association and fight for reform. Bennett never shies away from speaking the truth and is willing to go into the lion's den to make his case for change.
Vince Lombardi, perhaps the greatest football coach of all time, often said, "Winners never quit and quitters never win."
Lombardi would want Bennett and Daniels on his team. These two bold leaders refused to quit on our kids. As a result, Indiana's children have an opportunity to win the global competition that awaits them.
One of my friends said that my writing about education is like a hog wearing spats, but even Hully Gulleys want Indiana to be the very best.•
__________
Early served in the Indiana House and as a Republican state chairman, as well as on the Republican National Committee. Send comments on this column to ibjedit@ibj.com.

Please enable JavaScript to view this content.