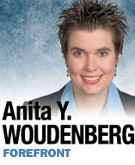 Apparently, Indiana has no choice but to pay for abortions. At least that's the message the federal court sent to Hoosiers last month.
Earlier this year, our Legislature passed by a significant margin a bill that prohibits state funds from going to abortion providers. The bill, HB 1210, made fiscal sense because, as with most legislation, it made needed budget cuts based upon the priorities and values of Hoosiers.
Yet just moments after the governor signed HB 1210 into law, Planned Parenthood filed suit in federal court, arguing that the law is illegal because it supposedly deprives low-income Hoosiers medical access to non-abortion services it provides through Medicaid. Planned Parenthood, an abortion provider, claimed it would lose the ability to provide those services because of HB 1210.
In an effort to bully Indiana into changing its position on taxpayer funding for abortion, the Obama administration, through the Health and Human Services department, rejected Indiana's amended Medicaid plan that reflected HB 1210's abortion defunding. HHS stated that it was illegal for a state to exclude funding for abortion providers, making very real the possibility that Indiana would lose all Medicaid funding. And then Obama formally supported Planned Parenthood by filing a last-minute, unsolicited brief with the court.
The bullying was effective. Rather than take a close, thoughtful look at the states' authority to determine who should receive Medicaid dollars, the court took refuge in Obama's position, claiming that it was unclear what the state was allowed to use as its standard for who qualified for Medicaid funding and deciding to defer to HSS' interpretation of what a state can and cannot do in determining who qualifies for funds.
It is true that, in some circumstances, deference is given to Congress as to what its laws mean. Likewise, deference is occasionally given to the enforcement agency that is tasked with interpreting the law to enforce it. But Medicaid law is quite clear: Providers qualify for Medicaid dollars based not only upon criteria articulated in federal law, but also upon "any other authority." The states are free to exclude a provider from its Medicaid program for any reason provided under state law. The court's decision to defer to the Obama administration is totally unwarranted.
Indeed, the Medicaid program was designed to be a partnership between the federal government and states. The federal court acknowledged that the inclusion of "any other authority" was to accommodate notions of federalism and state autonomy. The Medicaid program is not a program where the federal government simply orders participating states what to do with federal dollars.
The irony in all this is that Planned Parenthood is hardly in the financial bind it claims it's in. It has asserted that abortions make up only a small portion of its overall services. If that's the case, it can simply stop performing abortions and thereby continue to receive Medicaid dollars for whatever other services it claims it provides. The fact that it chose to litigate makes the financial hardship claim somewhat suspect, given what would presumably be a cheaper solution. But assuming the claims are true, Planned Parenthood could easily resolve that hardship.
And as far as the impact of HB 1210 on low-income Hoosiers seeking non-abortion services—a more important concern, in my opinion— Planned Parenthood has admitted that Medicaid recipients can readily find the services it provides elsewhere. So as a practical matter, HB 1210 affects only abortion providers.
Our attorney general is actively defending HB 1210 and has appealed the ruling. And while I hope the federal courts will stop acquiescing to the president, other states—including Wisconsin, Kansas, North Carolina and Texas—are undaunted by the president's threats: They have passed or will be passing similar legislation soon.•
__________
Woudenberg practices constitutional law at Bopp Coleson & Bostrom in Terre Haute. Send comments on this column to ibjedit@ibj.com.

Please enable JavaScript to view this content.