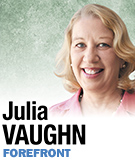 A recent story in the Los Angeles Times examines Indiana's disastrous welfare eligibility privatization project that was canceled in October 2009. As other states grapple with budget deficits and look for ways to provide vital services and raise capital, the siren song of the privatizers is being heard across the country. The Times story should be required reading for all politicos who think privatization is the answer to their problems; it makes clear that the only winners in this game are the attorneys and bureaucrats who make, and often end up breaking, the deals.
Just about everyone agrees that the $1.4 billion Indiana welfare privatization project was a complete failure, particularly the thousands of low-income, elderly and disabled citizens who had their benefits unfairly and, in many cases, illegally terminated. This failure was no surprise to human service advocates, who had urged the Daniels administration to consider the Texas experience with welfare privatization, which went belly-up only shortly before our state started its journey down the privatization path.
Another glaring sign this deal was destined to go bad was the fact that IBM ended up being the only bidder for the contract, giving it the upper hand in negotiations. Since the state had decided to make this deal, come hell or high water, they simply didn't have much leverage writing the terms.
When the doomed deal was finally canceled, IBM was sent packing, but several other firms who were involved as subcontractors continue doing business with the state, despite their close involvement with the fiasco. Affiliated Computer Services, better known as ACS, is one of the firms left standing.
Perhaps ACS was allowed to stick around because of the nearly $50,000 the company has donated to Gov. Daniels and his political action committee since 2003. Or, maybe it has something to do with former FSSA Secretary Mitch Roob's prior employment as an ACS vice president. And it certainly doesn't hurt that ACS is represented by the Daniels' administration's favorite law firm, Barnes & Thornburg, which has contributed nearly $120,000 to the governor since 2004.
Of all the winners and losers involved in this debacle, Barnes & Thornburg walks away with the biggest prize: a $5.25 million contract from the state to sue its former client IBM over the failed project. And, like the privatization deal that spawned the lawsuit, this shady arrangement is ripe with conflicts of interest and questionable decision-making.
The first and most obvious question is why the state needed to hire outside counsel for this case in the first place. The claim that it is just too complicated for the Indiana Attorney General to handle is not convincing, given that it basically amounts to a breach of contract lawsuit.
And, it is hard to understand why a firm as large as Barnes & Thornburg assigned Brian Burdick, the brother of Daniels' deputy chief of staff, Betsy Burdick, to this case at an hourly rate of $405. With hundreds of attorneys on hand, one would think B&T could have come up with someone less closely tied to the administration.
But the icing on this conflict of interest cake is that Barnes & Thornburg continues to represent several of IBM's subcontractors, a glaring conflict that the state recognizes hurts it case. The contract between the state and B&T states that FSSA should expect IBM "will look for creative ways to exploit the fact that the firm represented and continues to represent" the subcontractors.
Even if you believe the litigators at B&T are top notch, this tangled web of conflicting business relationships and loyalties should cause concern. Just how aggressively will Barnes & Thornburg go after IBM, since ACS and their other current clients' interests may not be served by doing so?
The deal with IBM was supposed to save Indiana taxpayers $1 billion and streamline the eligibility process for recipients; neither of those promises materialized. Instead, a handful of politically connected individuals and firms have pocketed huge sums of public funds while playing both sides of the fence.•
__________
Vaughn is policy director for Common Cause/Indiana, a nonpartisan citizens lobbying organization that works for open, honest and accountable government. Send comments on this column to ibjedit@ibj.com.

Please enable JavaScript to view this content.