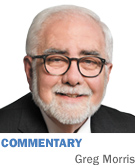 I know it's still early, but I've got presidential politics on my mind. Why? Because the economy continues to be stuck in the mud and it takes strong leadership at the top to get things moving again. If Barack Obama isn't the person to get that done, who is?
I'm starting to get nervous that the Republicans are going to hand Obama a second term on a platter. I worry I won't have anyone I can vote for next fall. Would an electable moderate Republican please come forward?
I see a parade of far-right-wing conservatives pandering to their base, but I can't find anyone I can get excited about. I don't think I'm alone because there doesn't seem to be a clear front-runner. By this time in an election cycle—based on recent history—the horses are starting to line up a bit as they round the first few turns. That's not happening. Although, I keep hearing Michele Bachmann plays well in Iowa.
I've had "M Bachmann" on my caller ID at home almost daily for a month now. I avoided the calls, but the other evening I was in the mood to spar a bit with the caller. The person on the other end of the line greeted my hello with enthusiasm and started into her pitch. I let her go on uninterrupted because I wanted to see if I could learn something.
No, it was the usual "liberals in Washington" speech that accuses Obama of personally taking the country down. Still, I let her get to the first closing attempt: "Would you be able to give $350 today or would $250 be better?"
The original plan was to give my rebuttal speech at this point, but the caller seemed like a nice young woman who was just doing what she was either getting paid to do or volunteering her time for. As a result, I wanted to be polite with my rejection. So, I simply said… "Thanks, but I'll pass."
Predictably, she went to the next page of the script, which stepped up the liberal scare tactics and closed with … "Can we count on you today for $100, Mr. Morris?" At this point, I felt I had no other choice but to share my thoughts. It went something like this.
"I'm not giving any money to Michele Bachmann. I don't donate to the far-right-wing, evangelical fringe. Frankly, she scares the hell out of me. Have you listened to any of what she has to say? She called Obama anti-American. Now, I'm not a fan either, but he's not anti-American, or the anti-Christ for that matter. She also said in a 2004 speech that homosexuality is 'personal enslavement.'
"Today, she crafts her message to try and sound more mainstream, but I think if anyone is a member of the extreme religious far right, it's her. Did I mention Tea Party? Maybe we could get Sarah Palin on the same ticket and give Obama 80 percent of the vote at the same time he has huge disapproval ratings. Sorry I got off on a rant, but am I wrong about any of this?"
Then I paused and there was dead silence on the other end of the line. I could hear background noise so I knew my caller hadn't hung up. I said, "Hello." Then I got the click. She hung up on me. I was more amused than offended. Obviously, she wasn't armed with a scripted response to my rant.
So, a note to Republicans—if you want my vote, please holster your strong convictions on social issues and let's get down to the important business of getting the economy moving again. Let's not worry so much about gay marriage and concentrate instead on getting people back to work. When people are earning a good wage, everything else seems to fall into place.
I'm not a big fan of the current administration, which promotes big government involvement. I can make my own decisions. I don't need government intervention to dictate every facet of my life. Obama is a big-government guy. But there's also an element of big government that comes with so-called conservatives who want to dictate how people live their lives.
So, would a moderate Republican presidential candidate please step up soon? You'll have my vote.•
__________
Morris is publisher of IBJ. His column appears every other week. To comment on this column, send e-mail to gmorris@ibj.com.
Please enable JavaScript to view this content.