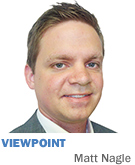 The U.S. Census Bureau just released detailed Census 2010 demographic data. The numbers show that, like much of the rest of the country, Indiana is aging fast. That aging population will soon have major ramifications for our state's work force, government finance and economic development. Our public- and private-sector leaders need to understand and plan for these realities.
Over the next 10 years, baby boomers will begin to retire en masse. By 2030, we can expect about 18 percent of Indiana's population to be age 65 or older, up from 12 percent today.
Based on labor force and population projections, we can expect anemic growth in the number of people employed or seeking employment. While the national labor force is expected to grow 10 percent over the next 20 years, Indiana's will grow only 1 percent.
Net effect: More citizens will rely on fewer working people to drive the economy that supports us all.
The situation is even more urgent in rural Indiana: About one of four Indiana counties can expect to see their labor forces shrink more than 5 percent by 2030.
To be sure, some labor force losses will be offset by older people staying on the job longer. Life expectancies have increased. Many organizations have eliminated or raised their mandatory retirement age. And some workers will remain in the work force because they need to replenish lost savings from economic downturns. That will make the employment shortage somewhat better than it might have been.
Still, there will be costs and consequences.
Because the work force is older, employers will face higher costs for health care, retirement and disabilities.
Rural employers (especially in blue-collar industries) will be faced with fewer people to staff positions.
Overall, Indiana will have fewer people driving productivity, innovation and profitability.
With stagnant labor force growth, Indiana's ability to generate tax revenue will be at risk. Fewer people working relative to those not working also means less taxable income for state and local government.
Concurrently, an aging population will consume more health and long-term care—services often funded or subsidized by government.
Thus, in the face of declining revenue and increasing cost, government leaders will need to consider how they can raise the money necessary to provide services, invest in critical infrastructure, fund work force training programs, and provide education in shrinking school districts.
So what's an urban or rural community to do?
First, objective community- and region-specific research is in order. Local leaders need to know what they're facing and when. This has ramifications for economic development, education, government finance and more. We need to make adjustments in advance, not in arrears.
Second, there's an impetus for many rural areas across the state to redefine their formula for success.
They may need to consider more "growth-from-within" strategies that foster business development by people who are there for the long term.
They may want to focus on regional partnerships that build capacity and agility to respond to changing market conditions. These should build upon competitive advantages that differentiate communities in positive ways.
Finally, if Indiana as a whole is to be successful, we need to better promote the benefits of rural economic development as a complement to urban strategies. Yes, metropolitan areas drive our state's economy, but cities don't exist in a vacuum. Goods and services flow from town to country, and with improved transportation and infrastructure connections, rural areas could further tap into channels of economic activity and further diversify our state's business potential.
While these population trends and ramifications warrant thoughtful consideration, all is not gloom and doom. Indiana is not, after all, unique in its situation. With good insights and planning, we could be innovative and thoughtful in our response. Will we be?•
__________
Nagle is a senior policy analyst with the Indiana University Public Policy Institute at IUPUI. Contact him via mnagle@iupui.edu.
Please enable JavaScript to view this content.