About 20 adults sat around a horseshoe-shaped outdoor table, sipping drinks and chatting while the smell of charcoal filled the summer air.
"We're going to go ahead and get started," said the chef standing before them, "because I'm hungry."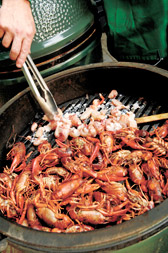 Chef JJ Boston teaches grilling classes in Broad Ripple. Last month, grilled crawfish and lobster were on the menu. (IBJ Photo/ Perry Reichanadter)
The guests laughed, then murmured enthusiastically as they watched live lobsters and crawfish, Prince Edward Island mussels, Little Neck clams, shrimp, grilled bread, fresh strawberries and home-grown lettuce become a memorable dinner and dessert they could later cook themselves.
Chef JJ Boston, who taught the June "Craving Crustaceans" lesson at his Broad Ripple business, is among the culinary entrepreneurs hoping to capitalize on growing interest in a fresh take on live cooking classes.
Nationwide, such classes have abandoned a traditional in-kitchen experience, opting instead for "destination" demonstrations featuring local ingredients.
"Shopping in the farmers' markets and on the perimeter of the grocery stores—avoiding jars, cans and boxes—is something the culinary industry is working hard to hammer home," said Candy Wallace, executive director of the San Diego-based American Personal and Private Chef Association. "You're going to see a lot of classes using the words 'organic,' 'sustainable' and 'local.'"
Classes also are moving outdoors, she said—on-site at organic farms, for example, to further connect the food with its source. The shift has proven popular with Hoosiers.
Chef JJ's Back Yard has been offering both indoor and outdoor grilling classes since its founding in August 2009. Boston worked as a corporate chef in Indianapolis from 2000 to 2004, then as a personal chef until striking out on his own. He already had a client base of grill enthusiasts who met at one another's homes to attend informal classes, so Boston began looking for a location that could accommodate growing demand.
Now the lessons, which cost $40-$60 per plate, consistently sell out four to six weeks in advance. Although some classes, like "Craving Crustaceans," can't use all local ingredients, Boston tries to feature Indiana-grown produce and meats as much as possible.
"Business is phenomenal," he said, though he declined to reveal financial specifics. "We've been operating in the black since really Day 1. We are experiencing year-over-year growth of 100 percent-plus. We are going fast and strong."
In addition to the classes, Back Yard hosts private events and sells tickets to public gatherings, including popular beer and wine dinners.

"I think we've really turned it into an experience," Boston said of the classes, which emphasize fresh ingredients and use the "Big Green Egg" eco-friendly ceramic grills he also sells. "People who want to come and learn something are going to have that ability. … Our food is simple enough to replicate, but advanced enough that you want to pay for it. So I think we found the right combination of what people want and what they need."
Using similar ideology, Traders Point Creamery in Zionsville began offering cooking classes this summer. In the first class, conducted last month, 35 participants learned how to eat organically on a budget.
Instructor Jen Love-Tillotson, who works part time as the dairy's holistic nutritionist, made and shared several recipes for "nourishing, delicious, family-friendly food," including peach blueberry crisp, chicken and spinach soup, and zucchini oven chips. Several recipes incorporated Traders Point products.
"People are definitely much more interested in the source of their food," Love-Tillotson said. "People are much more interested and open to the idea their diet could help to heal themselves. That's been a change I've seen over the past few years."
Love-Tillotson is leading several more classes this summer, including "Pizza from Field to Table" on Aug. 1. Classes cost $25 per person and are conducted at Traders Point's loft.
Chef Matthew Mejia works primarily at The Chef's Academy in downtown Indianapolis, but last month he did two outdoor cooking demonstrations at the Carmel Farmers Market. About 80 people watched him make Spanish-style tapas.
Mejia said since interest in celebrating food has grown significantly over the past several years, especially with celebrity chefs gaining national attention, he thinks people are more interested in becoming culinary stars themselves. Watching a demonstration like Boston's or Mejia's is one way to do that.
"They get to hear from someone who's either in the restaurant industry or has been in the restaurant industry," Mejia said. "It's kind of like how live music is more exciting."
Mejia said since his start in the industry, others' perceptions of chefs have changed as well.
"I can remember back in '88 when I decided to go to culinary school, people looked at me like I was strange," he said. "The average person knows a lot more about food than they used to, and they realize it's a profession and not a trade."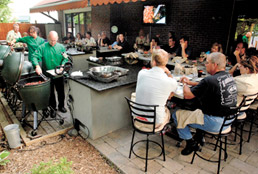 Boston works at his "Big Green Egg" grill, above, on the fresh crustaceans he uses in seafood jambalaya. Chef JJ's Back Yard opened in August 2009, and his grilling classes consistently sell out four to six weeks in advance. (IBJ Photo/ Perry Reichanadter)
At The Chef's Academy, growing interest in culinary arts is reflected in admission numbers. Mejia said enrollment has "grown steadily" since it opened in September 2006, and the school is "bursting at the seams" with 400 students.
While non-students cannot yet sign up for individual cooking classes, Mejia said he hopes to offer them next summer. In the meantime, demonstrations will continue at the Carmel Farmers Market.
Chef Ben Liederman at Indianapolis-based Clark Appliance, which has a "showcase" location in Castleton where grills are sold, said the barbecue-themed grilling classes he offers are by far the store's most popular, with participation at its peak in the summer.
Liederman said although the classes have gone through an "ebb and flow," for the most part their popularity has grown.
"It's funny how people's priorities seem to have shifted a little more to cooking at home," he said. "Maybe I'm getting a little of their 'dining out' money."
Carmel residents Cynthia and Mike Stover have attended two of Boston's classes, and said they often refer friends to Back Yard because they've had such positive experiences.
"I think it's the best date night you can have," Cynthia said. Boston "is extremely entertaining, yet informative."
Boston said for now he hopes to continue seeing his calendar fill with events, even after the summer is over.
"We've really found that grilling is not a seasonal sport," he said.•
Please enable JavaScript to view this content.