I love a good creation story, and the Yoruba people of the ancient city of Ife, in what is now Nigeria, have a doozy. It involves a god indulging in a bit too much palm wine, a snail-shell full of soil, a chameleon, and a chicken (with five toes).

You can Google the story if you'd like, but what matters is that creativity and spirituality are central to the culture of the Yoruba—a people who believe the world was created in their own back yard. While the Europeans were cloak-deep in their medieval period, the Ife were creating remarkable sculptures in copper alloy and terra cotta. And more than 100 of these pieces are on display at the Indianapolis Museum of Art's new show, "Dynasty and Divinity: Ife Art in Ancient Nigeria."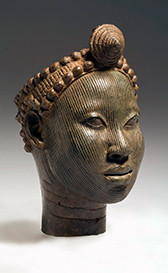 "Head with crown" (All Photos Courtesy Fundación Marcelino Botín/Museum for African Art. © National Commission for Museums and Monuments, Nigeria. Photo/Karin L. Willis)
The touring exhibition stays here through Jan. 15.

As with any significant exhibition of work from antiquity, one's reaction to it can come as much from what is lost as it does from what has been found. Only one Ife full figure is known to have survived complete. That piece, labeled "Figure of a king," is included in the show. The rest are broken or cryptically existent only in fragments. Even on the complete piece, though, there are unknowns. Traces of paint are on the beads, but there's no way of knowing how intense the colors once were. And scholars can't even nail the time of its creation, settling for the wide span of late 13th to early 15th century. There's so much we don't know that the object in front of us takes on added mystery. This might sound silly, but its wide, pupil-less eyes seem to be holding back a detailed history of the people who created it.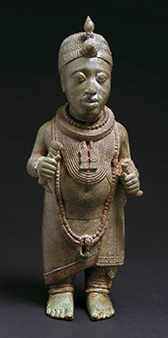 "Figure of a king"(Photo/Juan Jesus Blázquez)
Other pieces haven't held up nearly so well. A stone "figure of a dwarf" is missing most of its face. "Torso of a king" seems to have once had an entire body. Now, cut off at the waist, it's also missing an arm. Is it possible to divorce the knowledge of its broken limbs from the painful attitude in the face of the copper "seated figure"? I couldn't.
While much of the work is stunningly noble, the Ife didn't just use art to present an ideal. Included in the work collected for this tour are pieces that, if made today, might be more likely found in a medical museum or torture hall than in one devoted to fine art. One piece depicts birds pecking at bound people, another a face with grotesquely large ears. Still another rather graphically shows a man (now headless) with elephantitis of the scrotum.

Why? Again, we face the mystery.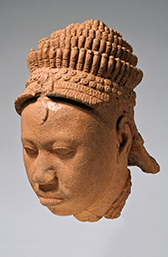 "Head" (Photo/Karin L. Willis)
One possible explanation: In the Ife culture, according to the very readable exhibition catalog, "Humans born with extraordinary shapes or conditions … would be interpreted as having been touched by the hand of the divine sculptor Obatala/Orisanla." This unique and fascinating combination of the sacred and the profane led me to see even greater richness in the sculptured portrait heads with their striated lines and holes that once (probably) held beads.

So little is complete that it's only natural that we bring some of our own creative energies to trying to fill in the gaps.•

__________

This column appears weekly. Send information on upcoming arts and entertainment events to lharry@ibj.com.