Leonard Hoops assumed his new position as CEO of the Indianapolis Convention & Visitors Association on May 31 after serving as executive vice president of the San Francisco Travel Association.
In an interview with IBJ reporter Anthony Schoettle, Hoops said Indianapolis has potential to become a top-tier convention city. He also said convention center rent is too high in a crowded market and that ICVA's budget needs to be increased by seven figures. The following is an edited version of the interview.
IBJ: What drew you to the Indianapolis Convention and Visitors Association?
Hoops: It comes back to a visit in 2005. I was here on a study mission … primarily focused on Conseco Fieldhouse and the concept of the doughnut counties being involved in the taxes and helping make that something the whole region could benefit from, and I was so impressed by the vision and the ability to execute that vision. I was intrigued by the opportunity. I liked the idea of living here. I just thought the cost of living, the sincere and genuine friendliness of the people, and then a real opportunity to move the needle. This is a destination I thought was trending up. The litmus test for me in terms of leaving that job and coming anywhere was that, am I going to be in a place where I can put down roots and enjoy myself and get to a point 10, 15, 20 years down the road and say, 'Well, I love living here, we accomplished something, I'm a part of something special.'? [Indianapolis] met all those tests.
IBJ: What are some of the things that have most surprised you about Indianapolis since first interviewing for this position?
Hoops: I was up this past weekend in the Michigan City/Chesterton area with a friend who's a meeting planner out of Chicago. He invited me up to a little farm place he has up there. He was talking about Midwestern this and that … and I said, 'You know, I think Indianapolis is in its own world from just Midwestern … there's more than just Midwestern hospitality. Indianapolis is different from, say, Chicago or other cities in terms of going out of your way to be friendly and things like that. But that really wasn't a huge surprise. If there was a surprise on anything, I guess I was surprised that the pricing on our [Convention Center] was a little higher than I anticipated in terms of how we price the building and how we negotiate the actual final rent with customers. In a lot of ways, it's on par with what absolute tier-one convention destinations are charging, and in some cases even higher.
IBJ: Will you be decreasing the rent of the convention center?
Hoops: We need to engage in a business optimization analysis. We need to take a look at the economic impact of a specific group and say, 'What really should we be charging them?' The reality of this industry is, it's oversupplied and under-demanded. There's a ton of Indianapolises out there who have expanded their centers or built new centers as well as individual properties … that can take on significant-sized conventions. Any time you have oversupply and under-demand, you have to take a look at your pricing. I don't want to get to the point where we're losing on a couple of tens of thousands of dollars on rent, a group that could have brought tens of millions of dollars in economic impact.
IBJ: If the market is overbuilt, how does Indianapolis survive?
Hoops: We have newer infrastructure, we have better infrastructure, it's more compact, it's closer, it's connected. We have a brand-new airport that J.D. Powers ranks as No. 1. We are what I would call a two-plus city. People want us to be tier-one, others say we're classic tier-two. What I mean by two-plus is that we have tier-one infrastructure, and that's what our calling card has been the last couple of years. But we're still a tier-two brand. So we have to move that needle.
IBJ: How do you rate Indianapolis as a convention and tourism destination?
Hoops: We would match up with any first-tier convention destination in the country in terms of infrastructure, as well as leisure destinations when you look at things we have along the White River. My litmus test for how the brand is recognized is, if you put 'Our next convention is in blank,' and you send that to a bunch of doctors or whoever and see what their excitement level is. We're not quite tier-one in that regard.
IBJ: What does Indianapolis need to take its tourism efforts to the next level … and what is the next level?
Hoops: Ultimately, the next level is getting to the number of [hotel] room nights that we think our expanded convention center and all this downtown infrastructure can handle, which is estimated at 850,000 room nights. We booked 650,000 last year, and we're pushing for 700,000-plus this year. That will be at the next level. Whether someone calls us first-tier or second-tier is not as relevant to me as the bottom-line economic impact. I'd love for us to ultimately be perceived as first-tier, but I think that takes longer than a couple of marketing campaigns.
What we ultimately need to do is … elevate the brand, and the brand is Indianapolis, it's not the tag line we associate with that [Raising the Game]. That's the brand strategy. I'm not sure the brand strategy we have now meets the test that I would look at for a brand strategy that is really going to move the needle.
For me, it's important to have something that really uniquely identifies a destination where, if you take the words from the destination name, and just say that brand strategy, people know the destination you're talking about.
Another is, are you making an emotional connection with that customer? When customers get some sort of marketing message related to that brand strategy, are they getting excited about that? One of the things I've picked up on in the first month I've been here is, we've had a love, not love relationship with the [Indianapolis 500] and the [Indianapolis] Motor Speedway. In our history, there have been times when we've really linked ourselves to the race, and times when we really seemed to have ignored it.
The real question is, how do you leverage something that everybody knows? Sometimes, we're almost too close to it to appreciate what that kind of recognition is like. But I can also understand the perspective of other stakeholders who say, 'We're so much more than that. Don't pigeonhole us into that.'
So the real trick is to come up with a brand strategy that leverages that, because I think we're ignoring it right now, without pigeonholing ourselves behind that.
So brand is one, and I think we're going to really have to look at the pricing model for the convention center. To get to the 850,000-room-night number, we're going to have to be a loss leader in some ways with certain groups. There are certain groups who, if they don't know us and the brand doesn't speak to them, we're literally going to have to go in and say, 'We're going to make this so affordable for you, you're going to have to check it out' with the hopes that this leads to repeat business and word-of-mouth referrals to other organizations.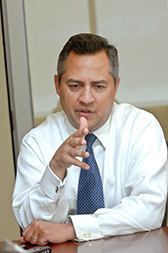 Leonard Hoops (IBJ Photo/ Perry Reichanadter)
The trick with that is, when you have something like the Capital Improvement Board and you have a cost center like the building itself, you have to go, 'OK, sometimes it doesn't wind up in the direct bucket [of] somebody who's managing the assets and liabilities or revenue and expenses.' You're going to have to look at that and say, 'We're going to come in under budget on revenue for the building, but clearly the overall tax benefits to the destination that end up in the hotel taxes, that end up in the CIB, there are ways to get that back.'
IBJ: When your predecessor, Don Welsh, was in your position about a month into the job, he said he thought the tourism and convention business's economic impact of $3.4 billion could double within 10 to 12 years.
Hoops: I'm not quite as bold on statements like that when I haven't done the data analysis, and I haven't done that as of yet. I would certainly think we're going to continue to go up.
IBJ: What would you tell the average resident of this community who asks why this region needs the tourism convention business to grow?
Hoops: One is the pure tax benefit. All the taxes generated by convention delegates or leisure visitors reduces the tax burden on the individual residents. Two, there's a significant multiplier effect for visitor business … because those are dollars coming in from the outside, they're not just dollars recirculated within the community. Third, there's a certain quality of life about living in a destination that people like to visit.
IBJ: What are some of the things you've seen work in San Francisco and other cities you've worked in that could be effective in Indianapolis in terms of growing the convention and tourism business?
Hoops: It almost always comes back to brand. We have to get to the level where our phone is ringing as much as we're picking up that phone and calling people. We have enough boots on the ground in terms of sales. It'd be nice to be like San Francisco or Orlando in terms of brand. Elevating the brand is going to be the key thing to getting to the next level. And that will probably take a little more money than what we've been spending now as a destination marketing organization.
IBJ: How much money will it cost to promote the city the way you want to?
Hoops: I don't know for sure, but it's more than we're spending right now. [The ICVA's 2011 budget is $13.9 million.]
IBJ: Are we talking about a multi-million-dollar budget increase?
Hoops: It would be a seven-figure number, not an eight-figure number.
IBJ: When will you be ready to make a presentation to CIB about a budget increase?
Hoops: I think it will be this year. We're going to have to address this sooner rather than later to get to that 850,000-room-night number. I don't want to go in willy-nilly and say I just need more. I want to go in and say I've taken a good look at this with my executive team.
IBJ: Do you anticipate making any changes at ICVA?
Hoops: I anticipate making many changes. That's an ongoing process. I'm not sure whether they'll be staff-wise or organizational structure or specific job responsibilities. I presented to my board a 100-day plan, and that was looking at five areas of the organization. … We're looking at convention sales deployment, how we're priced … over the course of 100 days I'll be saying, 'OK, here are the things I'd like to change.' Some of that will require vetting with the board. Nothing is imminent.
IBJ: What conventions, or types of conventions, are on top of your wish list?
Hoops: The groups that are 5,000 rooms in peak in general. I'd rather go after the biggest groups we think we can handle and start putting them in here. Groups that are not necessarily the biggest, but they spend a lot. There are a lot of medical and legal groups like that that we're not getting right now that we want to pursue. And they're different kinds of medical groups than we've been getting.
IBJ: How optimistic are you that ICVA can compete with cities like Orlando, Chicago and Las Vegas for mega-conventions?
Hoops: Very optimistic. This is a community with the wherewithal to make that happen. To consistently compete with them, we're going to have to have some kind of value proposition they can't offer. That's going to have to be a combination of brand and some kind of [financial] value, an offer they can't refuse.
IBJ: How soon until the newly expanded Indiana Convention Center can be filled to capacity or near-capacity, at least during the prime convention season?
Hoops: I don't know. One of the things that is a challenge is that we were fairly late to the game with renderings and specs for our new building that we weren't able to pre-sell the destination as early as we would have liked to have. So you don't have as much business in '11 and '12 in this building, or '14 for that matter, as could have been booked if we would have had those renderings back in '05 instead of [late] '08.
IBJ: How soon until the convention center needs to be expanded again?
Hoops: I don't think it's an in-this-decade expansion. We need to absolutely maximize the space we have now. Really elevate that brand. We need to have some confidence that our brand is progressing at the same rate as our infrastructure. We don't want to get into an arms race with cities like Las Vegas. We want to be the best Indianapolis possible.
IBJ: Welsh said another 1,000-room downtown hotel would be needed within five years.
Hoops: I can understand why he thought that. I don't believe we do. Certainly the amount of space we have in our convention center could justify another property the size of the JW Marriott. But the reality is, we don't have enough corporate transient business to sustain our overall hotel inventory with that many more rooms on a regular 365-day-a-year basis. That's a very low priority at this point.•
Please enable JavaScript to view this content.