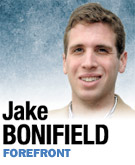 In a moment of characteristic fervor, congressional candidate Kristi Risk vied for the hearts and minds of Putnam County's Tea Partiers: "You know what we're gonna do to make sure our laws aren't against the constitution?" Dramatic pause. "We're gonna read them."
Sage advice, not only for our representatives in Washington but also for members of the General Assembly.
Earlier this month, it was revealed that lawmakers had dissolved the largest state agency in Indiana by virtue of a predetermined sunset date that was simply overlooked by lawmakers. The mistake highlights the need for greater attention to detail on the part of our legislators.
But taxpayers take heart: The governor signed an executive order restoring the program.
For several other ill-advised laws passed this year, this is not the case.
In the debate over Indiana's new school voucher law, Rep. Ed Delaney, D-Indianapolis, expressed concern that the law violated several provisions of the Indiana Constitution, most notably Article 1, Section 6, which provides, in part, that "no money shall be drawn from the treasury, for the benefit of any religious or theological institution."
Speaker Brian Bosma, backed by a Republican majority in the House that all but assured passage of the bill, responded by quoting the preamble. The law passed and is now the subject of a legal dispute between the state and a diverse contingent of interested parties including clergymen, educators, principals, professors and administrators, with taxpayers footing the bill.
The voucher bill is not the only poorly conceived legislation now being defended in court at taxpayer expense. In late June, U.S. District Court Judge Tanya Walton Pratt agreed to issue a temporary injunction, delaying implementation of a state law attempting to defund health care provider Planned Parenthood by blocking Medicaid patients from being reimbursed for health services at clinics around the state.
The decision was an important if transient victory for the federal government and Planned Parenthood, which argued the state may not disregard long-standing federal law regulating the distribution of Medicaid funds. The bill, a boon to the pro-life lobby, targeted Planned Parenthood and other Medicaid recipients that perform abortions.
Health and Human Services Secretary Kathleen Sebelius noted that it is long-standing policy that states may not limit patient choice by picking and choosing among providers. Planned Parenthood's abortion services are privately funded with federal funding of abortions having been prohibited since 1976.
A new immigration law authored by Sen. Mike Delph, R-Carmel, is also under scrutiny. District Judge Sarah Evans Barker followed suit concerning Senate Bill 590, another Republican-backed provision pushed through both chambers and signed by Daniels, then considering a run for president.
The law emulates provisions of Arizona's controversial immigration bill, itself now the subject of a contentious legal battle. It provides sweeping new powers to law enforcement, authorizing the arrest of immigrants who have committed no crime.
None of these efforts reduce unemployment, inspire innovation or improve the lives of everyday Hoosiers, even among those who may agree with their authors' intent. The focus of this session should have been on improving the economy and creating jobs. Instead, money, time and energy were wasted on red herrings.
Over the next 18 months, as the 2012 election cycle nears, Hoosiers will face choices. They will have the chance to examine this year's session, reflect on the impact new laws have had on the state, consider the costs of partisan divide and simplistic rhetoric, as well as to determine which candidates on the ballot will embrace thoughtful debate and champion sensible policy in the years to come.
Candidates should be pressed for detailed, policy-focused platforms.
And voters? In the words of candidate Risk, they should read them.•
__________
Bonifield is a political science major at DePauw University and president of Hoosier Youth Advocacy, an organization focused on increasing youth participation in the Indiana General Assembly. Send comments on this column to ibjedit@ibj.com.

Please enable JavaScript to view this content.