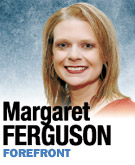 One of the most interesting features of the ongoing debate over the state's attempt to withhold Medicaid funds from Planned Parenthood is the notion that this is a states' rights issue. Advocates for the law (in addition to typically being opponents of abortion) claim that the Obama administration's critique of the law is further evidence of the feds inserting themselves into the business of the state.
As a student of federalism and state politics, I routinely argue in favor of the richness of the democratic process that is possible in a federal republic such as ours. We might have 50 different answers to a particular policy question such as when and under what circumstances alcohol can be sold.
Indiana's laws on the sale of alcohol are rather limiting compared to those of most other states. Whereas Indiana stores cannot sell alcohol on Sundays (though our restaurants can), retailers in Louisiana, for example, can sell alcohol pretty much any time day or night. In Louisiana, there are actually drive-through daiquiri bars, complete with extra shots during happy hour. This would clearly not suit the majority of Hoosiers whose preferences are, as a whole, much different from Louisianans'.
There are also policy issues on which we allow for localities to assert their preferences. When I was growing up in southern Mississippi, most stores were not allowed to be open for business on Sundays. So-called blue laws were once common and they are not unheard of today.
These are small examples of policy matters on which states and communities can assert their preferences and thereby assure that more of the citizenry is satisfied with the outcomes.
This policy diversity is a core feature of American federalism. States can make their own choices in certain arenas. And like many fundamental values, the freedom associated with this opportunity for diversity across the states opens the possibility of discrimination and, less sinister, simple bad policy-making.
As someone who occasionally teaches about Southern politics, when I hear the term "states' rights," certain precedents leap to mind. Until well into the 1960s, Southern governors and legislatures proclaimed it was within their power due to the doctrine of states' rights to prevent people of color from attending our public schools and universities and indeed from exercising the basic rights of citizenship such as voting.
No legitimate public official would make such a proclamation today, and, indeed, myriad court decisions and federal legislation (passed in part to reinforce earlier amendments to the constitution) now preclude such an argument from being viewed as valid by any well-meaning observer.
But the language of states' rights is still with us. And it is nearly always employed to constrict rather than expand upon the rights of the minority. Some things apparently don't ever change.
The debate over Medicaid funding and Planned Parenthood is about the access of poor people to health care. And about the right of the state of Indiana to assert the power to say where poor people can receive such health care services.
The law's supporters rightly point out that the law was passed by the majority of the General Assembly and signed by the governor. The majority has spoken. But it's the rights of the minority that are affected. This is a familiar argument.
Finally, and perhaps more to the point, the vast majority of funds for Medicaid come from the federal government rather than from the state. It is a program created by the feds and they, therefore, set the rules. The court has been clear about this point.
Indiana can make its own rules regarding the distribution of Medicaid dollars. But if the federal government finds we are not in compliance with federal law, we forfeit federal dollars.
It isn't a matter of states' rights. It's a matter of federal policy.•
__________
Ferguson is an associate professor of political science in the School of Liberal Arts at IUPUI with expertise in state politics. Views expressed here are the writer's. Send comments on this column to ibjedit@ibj.com.

Please enable JavaScript to view this content.