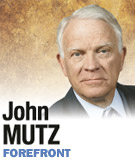 More than 800 local business, civic, political and education leaders showed up May 5 for The Mind Trust luncheon featuring columnist and author David Brooks. It was apparent this event at the J.W. Marriott was the place to be. Just about everybody in the local establishment was on hand. It was the biggest turnout for an education event I have ever seen in Indiana.
The luncheon was the kickoff for Mind Trust's $18 million Grow What Works campaign to bring about substantial improvement in the community's education attainment record. It featured remarks by former Mayor Bart Peterson and Gov. Mitch Daniels to demonstrate a bipartisan approach. To provide momentum, a $2.5 million grant from the Eli Lilly Foundation was announced by company President John Lechleiter.
The six programs the Mind Trust intends to support will become a network of the nation's best education reform ideas led by visionary entrepreneurs. The Mind Trust believes that aggressively growing these organizations in our community is a promising way to create lasting reform and will speed the day when we can be truly proud of our local education system.
The organization will attempt to scale up successful strategies and encourage innovation. The various organizations will concentrate on recruiting and supporting excellent teachers and school leaders. It will also emphasize college access, particularly for low-income families.
Additionally, it will encourage parents and teachers to become the primary change agents. The effort will also focus on the achievement gap between low-income and more affluent students. According to recent studies, 60 percent to 90 percent of this gap is due to learning losses occurring during summer vacations, so it will be necessary to establish enrichment programs for those falling behind.
This ambitious program comes into existence at the same time state and federal leaders are united on what needs to be done for our country's ailing schools. This is probably the only policy area where the Daniels and Obama administrations agree.
At the national level, Education Secretary Arne Duncan and, in Indiana, Superintendent of Education Tony Bennett are singing from the same piece of music.
Additionally, the recently completed General Assembly passed nearly all of Daniels' education agenda, including major changes in collective bargaining and evaluation of teacher performance. It also allows a major increase in the number of charter schools.
What's more, the redistricting law will at least for the next few elections ensure Republican control of the legislative process, thus giving the state time for the new approaches to work.
Does this concurrence of favorable events ensure that our system will make great strides in the next decade, thus assuring higher achievement scores by students and much higher college attendance? Probably not, unless we can change the way Indiana families think about education. Education must be recognized as the portal to better-paying jobs, a better quality of life and more effective citizen participation in our democratic society.
We must create a culture similar to those in Japan, Canada and Scandinavia. In these countries, parents put education first on their list of priorities. They are willing to sacrifice their standard of living so their kids can succeed.
The tipping point is where education as a priority becomes a contagion and "infects" virtually everyone. That's the kind of epidemic we need in Indiana.
Charter schools, which are local public schools, each have a separate board composed of local citizens. If 50 percent of our schools were chartered and each school had a board of 10 members, we could have as many as 9,000 Indiana citizens directly involved in the governance of our schools.
Impossible, some would say. But today, more than half of all public school students in New Orleans attend charters.
A greater concentration of locally governed schools where more of the dollars go to classrooms could move Indiana closer to cultural change.•
__________
Mutz has held leadership positions including lieutenant governor and president of Lilly Endowment and PSI Energy. Send comments on this column to ibjedit@ibj.com.

Please enable JavaScript to view this content.