When the JW Marriott's gleaming blue tower was finished this winter, it changed more than just the Indianapolis skyline. The new hotel's sparkling accommodations and state-of-the art technological offerings changed the landscape of hospitality competition for the downtown's other hoteliers, as well.
Together with the impending flood of Super Bowl attendees and the beefy schedule at the recently expanded Indiana Convention Center, other downtown hotels are feeling the heat, said Chris Gahl, spokesman for the Indianapolis Convention and Visitors Association.
That explains the $72 million in renovations and expansions to downtown hotels within the last 36 months, Gahl said.
 
Locklear
While the typical traveler was once happy with key-card entry and WiFi access, the 21st century guest (especially the business traveler) expects much more, said Debbie Locklear, president and owner of Meeting Services Unlimited Inc.
It's not uncommon for a hotel to offer remote registration for conventioneers or the ability to print airline tickets from the lobby. Digital, and often interactive, signage directing guests to meetings or convention events are fairly typical, as well as videoconferencing and videocasting capabilities, which is something like broadcasting a meeting via the Internet.
Most hotels already offer WiFi, but many downtown properties still require a fee for guest room use. Soon, WiFi will be offered free, because guests increasingly access the Internet through smartphones, anyway, Locklear said.
Eble
Mark Eble, regional vice president of San Francisco-based hotel broker PKF Consulting, isn't so sure those tech bells and whistles top hoteliers' to-do list. Rather, addressing energy-efficiency issues may come first.
"Of course, hotels are constantly trying to stay up-to-date, but the last three or four years have been the worst hotel business since the '30s," he said. "If a hotel can only afford one or the other, I'd rather have a new comfy bed than a touch-screen reader board."
Eble noted one of the largest expenses for a hotel is heating and cooling, a system that runs constantly to avoid stale air in guest rooms. Newer hotels tend to be built with more energy-efficient systems, some with the capability to sense when someone is in the room.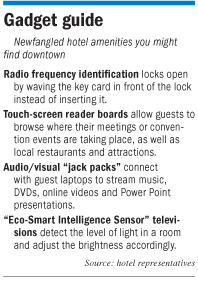 Properties that consider themselves the JW's stiffest competition are covering all those bases.
The downtown Hyatt began a $16 million renovation in September that will add new carpet, tile, furniture, tubs and vanities to all 499 of its guest rooms on top of some tech additions. Swipe card locks will be replaced with radio frequency identification locks, which allow the guest to simply wave the key card in front of the lock rather than inserting it. Front-desk attendants can also remotely change the room code on the card if the guest is unhappy with the room they're given.
Audio/visual "jack packs" are being added to all rooms to allow guests to hook their laptop to the flat-screen TV for watching DVD's streaming movies from the Internet or playing Power Point presentations. New, more energy-efficient thermostats will be added to each room, as well as LED and compact fluorescent lighting.
The Conrad's $25,000 tech renovation includes two touch-screen reader boards on the first floor, which rotate convention and meeting event information, happenings at the hotel, and restaurant details. Touch-activated tabs allow guests to search events by group or meeting; get up-to-date status on airline departures and arrivals; and browse a map of local attractions, restaurants and places of worship.
Flat-screen TVs in the Conrad will be replaced within the next year with more energy-efficient machines equipped with an "ecosmart intelligence sensor" to detect the level of light in the room and adjust screen brightness accordingly. The units will also allow guests to hook up their laptops and MP3 devices.
The Omni added HDTVs during its most recent renovation and the Westin has a computer in its lobby for printing airline tickets.•
Please enable JavaScript to view this content.