There are several restaurants opening in central Indiana—and some closing. And despite the economy, there are also several retail stores opening new outlets in the area.
Among the casualties is Hue, the downtown restaurant and lounge just west of Washington and Pennsylvania streets that replaced the shuttered Taste of Tango in late 2010. Also closed is The Glass Chimney, a fine-dining staple along Old Meridian Street just south of Main Street in Carmel.
Here is a sampling of some restaurants and retailers that are opening or expanding around the city. A longer list can be found at ibj.com/propertylines.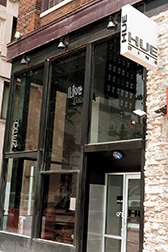 Hue lasted only about six months in a spot on Washington Street between Meridian and Pennsylvania streets. (IBJ Photo/ Eric Learned)
• El Rodeo is heading downtown. The popular Mexican restaurant chain with outposts all around the city plans to take over the former home of Red Eye Cafe along Meridian Street, next door to Claddagh Irish Pub.
• Hotcakes Emporium, a breakfast spot along Ditch Road just south of West 86th Street, plans to open a second location on the south side. The 3,500-square-foot restaurant is planned for the northwest corner of Bluff and Southport roads.
• Eggshell Bistro, a breakfast and lunch restaurant, is scheduled to open in September in Carmel's City Center. The restaurant promises a variety of "healthy, rustic, fresh and often creative" dishes centered around the restaurant's namesake.
• Tony Sacco's Coal Oven Pizza is scheduled to open a new location at Greenwood Park Mall in mid-August. The Florida-based restaurant chain, which has a location at Clay Terrace, plans to take a space between Stir Crazy and T.G.I. Friday's.
• Ovation Audio-Video & The Mac Experience plans to open a new store in September at Greenwood Park Mall. The shop will be next door to T.G.I. Friday's.
• Staples, the office and school-supply staple, is building a new store near Lafayette Road and Interstate 65, in a center anchored by Walmart and Best Buy. The 14,300-square-foot store will replace a location along West 38th Street between Lafayette and Moller roads.
Please enable JavaScript to view this content.