Reggie Miller's charitable foundation stopped holding fundraisers after his 2005 retirement from the Indiana Pacers, and it closed shop early last year.

D.R.E.A.M. Alive, a not-for-profit co-founded by Indianapolis Colts tackle Tarik Glenn, expanded its activities after he quit football in 2007. It also has ended each of the last four years with its books in the red.

Professional athletes' wealth and fame often lead them to share their success in the charitable arena, but those efforts rarely last much longer than their careers as the organizations struggle to survive in an already-crowded philanthropic field.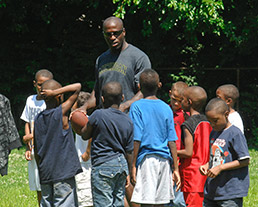 Marlin Jackson works with kids at a local Boys and Girls Club as part of his Fight for Life Foundation. (IBJ Photo/ Perry Reichanadter)
Indeed, most players' charities are very small. Some bring in so little revenue—less than $25,000 a year—that they don't have to file a federal tax return.

"How do you really make an impact that way?" asked Kathy Babiak, a University of Michigan associate professor who studies philanthropy in pro sports.

Having a passion for the cause helps. Former Colts cornerback Marlin Jackson, for example, supports the Fight for Life Foundation, which offers football camps and character-building programs in Indianapolis and his hometown of Sharon, Pa. The foundation is the centerpiece of his post-football plans.

Now signed to the Philadelphia Eagles and recovering from a ruptured Achilles' tendon, Jackson intends to retire in Indianapolis and convert Fight for Life from a fund under the Shenango Valley Foundation in Pennsylvania to a stand-alone entity based here.

He's not concerned about how his status as a player will affect his charity.

"I think God will take care of everything, and the chips will fall in the right place," Jackson said.

Others share his optimism. Athletes nationwide appear to be starting their own charities at a growing rate, Babiak said.

In the NFL, for example, more than 40 players formed a charity, private foundation or donor-advised fund in each of the years 2007 through 2009, she said. Just 13 players did so in 2000.

A handful of current Indianapolis sports figures—Colts Peyton Manning and Gary Brackett, Indiana Fever star Tamika Catchings, and NASCAR stalwart Tony Stewart—have active not-for-profit organizations.

Manning's PeyBack Foundation is the largest, with $1.7 million in assets in 2009, the most recent year for which tax returns are on file. Stewart's also is well-funded, with nearly $600,000 in assets.

Colts linebacker Brackett's Impact Foundation is much smaller: less than $100,000 in assets. Catchings' Catch the Stars Foundation is smaller still, with assets of less than $33,000.

Most of the local athletes say they intend to keep their charities going after they retire. (A representative of Stewart's foundation did not return phone calls.) That should be no problem for Manning, but others don't have the luxury of a last name that's synonymous with NFL quarterbacking. They also lack endowments, which could ensure their charitable efforts last long after the last whistle blows.

Scott Tainsky, a University of Illinois faculty member who studied NBA players' charities, said their life spans reflect athletes' transient careers.

"Once they're done, they're no longer top-of-mind and no longer able to leverage that brand identity," he said.

That seems to have been the case for Miller, the Pacers' legendary shooter. As a TNT commentator, Miller spends most of his time in Los Angeles.

Miller still gives privately to his favorite cause, children with burn injuries, but he's satisfied with the Reggie Miller Foundation's 10-year run, Business Manager Gail D'Agostino said.

Miller's foundation distributed $675,500 in grants from 1999 through 2009.

"We hit it at a great time," D'Agostino said of the foundation. "Reggie was able to do some really nice things. He never really did it for the publicity."

Glenn doesn't want D.R.E.A.M. Alive, which introduces service learning to middle school students, to repeat the patterns of athlete-driven charities. But he knows it will take time and effort to build broad public support for the mission.

"That's the key to your existence," he said.

'Cool thing to have'

Given the likelihood of an eventual flameout, Indianapolis attorney and former sports agent Milt Thompson advises athletes to join forces with an existing charity rather than start their own.

"What's the magic of having a foundation when you don't have that money to contribute to it and time to do special events?" he asked. "If the goal is to do special events and spotlight a cause, then move forward and do it."

Yet athletes insist on forming their own not-for-profits for a variety of reasons.

Tamika Catchings formed the Catch the Stars Foundation in 2004 because she wanted to work directly with kids, her sister Tauja Catchings said.

"Tamika, she has an awesome story to share," she said. Catchings, an All-American at the University of Tennessee, was born with a hearing disability and wore a hearing aid as a girl. "She has an opportunity to relate that."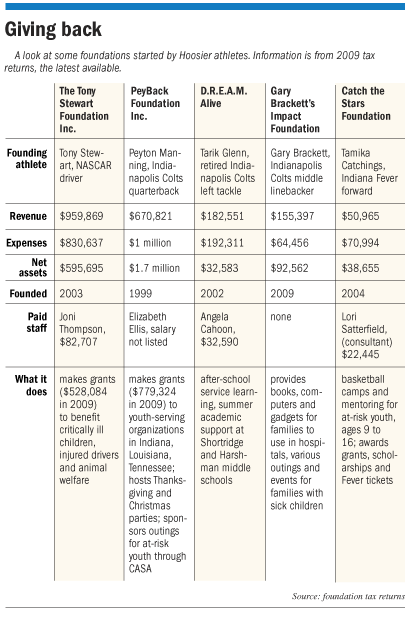 Catch the Stars began by offering basketball camps, and Tauja said Catchings added fitness clinics and mentoring as parents asked for more. Tauja is the organization's volunteer administrator, a role she regained this summer because the foundation couldn't afford to pay an administrator, as it had for the past year.

The Catchingses didn't want their work to be redundant, Tauja said, so the foundation has collaborated with Girls Inc.

"We also wanted to make sure we made a difference in the way we wanted to make a difference," she said.

Brackett said he started the Impact Foundation so he could spend time with families of sick children.

"I did it so I could be involved," he said. "Be at the hospital, be at the events."

Brackett witnessed those families' daily ordeals in 2005 when he spent time in the hospital as a bone-marrow donor for his brother, who later died of leukemia.

As a result, many of the Impact Foundation's programs are morale-boosters.

One of Brackett's signature events is the Tend-Her-Heart Luncheon for mothers. About 150 women came to the event at the downtown Marriott in April. Brackett thanked them by talking about how much he appreciated his own mother's sacrifices.

All the women took home Vera Bradley bags, and Brackett signed autographs until the room was empty.

TV news crews were on hand for the mother's lunch, as well as a June fundraiser at Morton's Steakhouse downtown. The dinner, served by celebrity athletes, raised a reported $95,000 for the Impact Foundation.

Positive publicity might not be the driving force behind local athletes' charities, but it can be a nice side effect.

Prolanthropy, the Cincinnati area firm that manages Brackett's foundation, describes itself as collaborating with professional athletes to "share their success and gain positive exposure through their own charitable efforts."

Principal Jeffrey Ginn said athletes set up their own not-for-profits "because they want to help people and it's kind of a cool thing to have."

Ginn said he often picks up clients after they've started a charity but run into difficulty complying with IRS regulations. Most athletes' foundations are classified as public charities, which means no single source of revenue can account for more than one-third of total support.

That's the trade-off for a more advantageous tax break. Donations to public charities earn a 50-percent income-tax deduction, whereas gifts to private foundations bring a 30-percent deduction.

The PeyBack Foundation is a public charity, which is why one of the highest-paid NFL players has to solicit his sponsors to make donations and hold events like the PeyBack Bowl, a celebrity bowling competition, each August.

Last year's PeyBack Bowl drew 450 people and raised $420,000.

Partly because of the success of that event, the PeyBack Foundation awarded nearly $800,000 to 147 youth-serving organizations in Indiana, Tennessee and Louisiana this year. The foundation declined to release other financial information from 2010.

Manning said he and his wife, Ashley, want to ensure the PeyBack Foundation keeps going well after he retires. So they set up a $1.2 million endowment fund, "which will allow the foundation to continue to grant money to youth-based organizations for years to come, even if there is not another fundraiser," he said via e-mail.

The Reggie Miller Foundation also took an event-oriented approach to fundraising. The foundation hosted a bowling tournament called the Reggie Bowl and made grants to three local organizations: the pediatric burn unit at Riley Hospital for Children, the People's Burn Foundation and Hoosier Burn Camp.

Miller, who lost his Geist-area home to a fire in 1997, also would visit the hospital and burn camps, though D'Agostino said he preferred to make those visits without cameras present.

David Morton, principal at Indianapolis-based marketing firm Sunrise Sports Group, thinks many athletes end up hurting their personal brands through charity work that appears to be more about publicity than making a difference.

"If a brand is propped up by perception and feel-good, that's not a credible brand," he said.

Morton thinks athletes would benefit their long-term careers by making deep charitable commitments.

"We're supposed to be indebted to them for whatever they do. They can do more," he said. "They can have a greater impact."

Making a difference

With two Pro Bowl appearances and a 2006 NFL championship ring, Glenn could have built a charity around his name. He chose not to.

"It hurts the sustainability of your organization when you build on personality and not the mission of what you're trying to accomplish," said the retired left tackle.

Yet D.R.E.A.M. Alive has struggled to define its mission. Named for five values its organizers believe children should embrace—discipline, responsibility, education, achievement and motivation—in the early years it hosted football clinics and supported Tabernacle Presbyterian Church's athletic field renovation.

Summer football evolved into summer academic support, which later became an after-school program at Shortridge Middle School, Executive Director Angela Cahoon said.

D.R.E.A.M. Alive has carved a niche in service learning, where lessons in math or current events are tied to community-service projects.

Now it faces the same challenges as any small not-for-profit. It had a $9,000 deficit on about $304,000 in revenue last year, for example, after a past sponsor wasn't able to provide transportation for summer camp.

So far, the organization has covered its deficits with a $119,000 surplus generated in 2006, Cahoon said. The next step is to build broad donor support.

For now, Glenn's notoriety as the fortress-like protector of Peyton Manning is important to the bottom line. Glenn donates fees from speaking engagements, which cost corporations $5,000. That fee, plus a 50-percent match from NFL Charities, is enough to cover an entire semester of programming at one school, Cahoon said.

Glenn, who is pursing a master's degree in business administration at Purdue University, thinks his next career will involve some sort of ministry. Although he doesn't want to be the focus of D.R.E.A.M. Alive, his personal views undoubtedly have shaped its mission.

Glenn said society places too much emphasis on talent, rather than helping others. He's proud of the students for their work with Gleaners Food Bank and participating in a 48-hour fast.

"A lot of our kids come from low-income homes. It's amazing the things they're willing to do and sacrifice," he said.

Changing kids' perspectives is the kind of legacy that can last longer than even the most successful athlete-driven charity—something that isn't lost on their founders.

When he's in town, Jackson helps coach the flag football program he set up at local Boys and Girls Clubs. The weekly practices are followed by talks that relate to the day's activities and life in general.

The six-week program is open to boys and girls ages 8 to 13. Those who show up consistently and pay attention during the talks get a chance to play in their own "Super Bowl" at the Colts complex.

Earlier this month, Jackson helped run practice at the LeGore club in Decatur Township. Afterward, he and the volunteer coaches led a talk that centered on discipline.

Jackson pointed out that it had taken the kids an hour to get practice started that day. The Colts win games because they show discipline in small ways, like not talking when the coach is talking, he told the kids.

He also asked how many of the kids knew someone who'd spent time in juvenile detention. Seven hands went up.

Jackson said he conceived the program because football is what kept him on the right path in life. His mother was a crack addict, so he lived with his grandmother and at one point his high school football coach. Jackson feels a deep connection to kids in similar circumstances.

"That leads to a lot of disappointments as a kid and confused feelings as a kid," he explained. "Their maturity, their growth is stunted. That's why they're disadvantaged."•