Georgia Street is as old as Indianapolis.
It's right there on the original 1821 Alexander Ralston "Plat of the Town of Indianapolis."
The street is home to the city's oldest hotel, the Omni Severin (98 years), and its oldest Catholic church, St. John the Evangelist (140 years).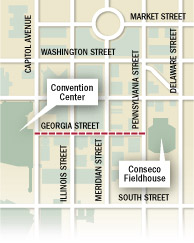 But the downtown landmarks soon could get a new address.
Community and business leaders are considering whether to change the name of a three-block portion of Georgia Street as part of a $12 million streetscape overhaul.
The idea is to create a fresh brand for a unique destination in the city, said Julia Watson, a vice president at Indianapolis Downtown Inc. who is heading up the search for a new name.
The stretch of Georgia Street from Capitol Avenue to Pennsylvania Street will feature a covered pedestrian mall in the median, sandwiched on both sides by a lane of traffic and a wide sidewalk. It will connect the Indiana Convention Center to Conseco Fieldhouse.
The project, funded primarily with federal stimulus dollars, is scheduled for completion in October, three months before Indianapolis is scheduled to host the 2012 Super Bowl.
The mall will feature shopping and dining kiosks, bike racks, directional and historic signs, and decorative lighting. It will provide a new downtown gathering space and a bridge of sorts between convention venues.
Watson's committee of community and business leaders hopes to settle on a new name by late November, the deadline for including it in the phone book. Renaming the street also would require notice to property owners and approval of the Metropolitan Development Commission and Mayor Greg Ballard. Before that, the group plans to seek public input.
Watson declined to share any possibilities but said the name likely would recognize a person, feature or values relevant to that portion of the city.
"We know it's not Georgia," she said. "It doesn't make a lot of sense to refer to it that way."
Jeff Smith, operating partner at the restaurant Harry & Izzy's, suggests Hospitality Way, a play on Hoosier Hospitality and the hotels, restaurants and shopping that line the corridor between the convention center and Conseco Fieldhouse.
Another option would be a nod to the street's history.
"If it was up to me, it would need to reflect the great history of Indianapolis and the Wholesale District," Smith said. "How you tie that in, I'm not sure."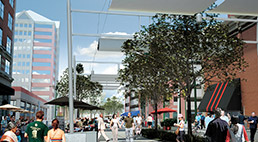 A three-block stretch of Georgia Street is being transformed into a boardwalk—with bike racks, new landscaping and dining kiosks. (Photo courtesy City of Indianapolis)
Mike Eklof, director of sales at the Omni Severin Hotel, is cool with a new name and reckons the best time to do it is as the new pedestrian mall modeled after Barcelona's La Rambla comes on line.
The hotel has put on hold an order for new sales materials so it can include a new street name on maps of the hotel. (The hotel itself has a Jackson Street address.)
Eklof wants a street name with "historical connections to the city," but couldn't immediately think of a good option.
Perhaps the best solution is to stick with Georgia Street.
Most street renaming efforts wind up with awkward names that fail to improve on the existing ones, said Aaron M. Renn, an urban affairs analyst who writes the blog Urbanophile.
It's not uncommon for cities to have streets named after other states. Take Chicago's Magnificent Mile shopping district, which sits along Michigan Avenue.
If the committee comes up with a "fabulous local-sounding name," it should make the change, Renn said. Capitol Avenue once was Tennessee Street; that change made some sense.
Otherwise, leave it alone.
"I think it would be a lot easier to make it worse than Georgia Street than to make it better," Renn said. "There's a historic tradition of streets downtown named after states, based on the Ralston plan. It's surprising they want to get rid of it without a firm idea in mind for a new one."•
Please enable JavaScript to view this content.