Culinary entrepreneur Erin Edds doesn't use the word "organic" to describe Hoosier Momma Bloody Mary mix.
She uses it to discuss the growth of the business she essentially birthed by answering a phone call 18 months ago.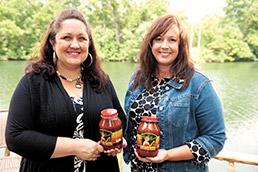 Erin Edds, left, and K.C. Cranfill combined their culinary and business expertise to drive Hoosier Momma's growth. (IBJ Photo/Eric Learned)
It already is a profitable entity available in 350 locations and six states. This month, Hoosier Momma expanded into Kentucky, thanks to a deal with national distribution giant Southern Wine and Spirits.
Edds has grown the company with the help of family, friends and fans of its vegan, gluten-free products made with Indiana-grown ingredients.
"We had a product that already had a cult following," said partner K.C. Cranfill. "It was like chasing a toddler. I have never put something together so fast in my life. We had a product and we built the plan around the product."
Hoosier Momma got its start in January 2010 as the Indianapolis Colts were preparing to play in Super Bowl XLIV. At the time, Edds operated Country Mouse City Mouse, which made locally sourced foods for farmer's markets. An event planner in New York called in search of an Indiana-based product for Super Bowl-themed gift baskets.
Searching for an idea, Edds drew from her days tending bar while attending IUPUI. She decided to use Indiana-grown tomatoes to make Bloody Mary mix, which could be bottled and stay fresh on a shelf—if it survived breakfast.
"I wanted to make it very wholesome and local," said Edds, 35. "Tomatoes are huge, and everybody does salsa. Everybody does hot sauce. So what is somebody going to actually use in a hospitality basket in their suite at the Super Bowl? Bloody Mary mix. It's the morning of [the game]. It's perfect."
She printed black-and-white labels on her printer at home, wrapped them around the jars, and things took off from there.
"I gave it to my regulars at the farmer's market, and word of mouth started to take hold," Edds said. "That was January. By March, I knew I had to find somebody to manufacture it for me, because there was no way I could maintain the production volume that I was already hitting in just two months."
She began using a local small-batch foods manufacturer, which Hoosier Momma also outgrew. Royal Food Products in Indianapolis now makes its two Bloody Mary mixes—regular and spicy. Edds makes a garnish the company sells, and its pickled Indiana carrots come from a firm in Brookston, Ind.
In June 2010, Edds joined forces with Cranfill and a third partner, Casey "Cat" Hill, to form Hoosier Momma LLC. Cranfill, 43, and Hill, 45, provided capital and business experience.
The company started without a formal business plan, setting its strategy as it grew through word-of-mouth, social media and special events. It refined the product after getting informal feedback from patrons at appearances at liquor store tastings, Indianapolis Symphony Orchestra events and golf outings.
"We have met the needs of the consumer more than we have designed a plan around growth strategy," Edds said.
Catching up with the growth
The women set up a business address in Brownsburg, sharing office space with a development firm owned by Cranfill's husband, Mark.
It is a family business: Edds' husband, Stephen, is the sales manager. He also provided the connection to the Cranfills, who were his classmates at Hanover College.
Edds had the culinary background, thanks to years in catering and running Country Mouse City Mouse—which she sold to Iozzo's Garden of Italy chef Kathy Jones this year. Cranfill brought business expertise and helps run day-to-day operations.
Cranfill and Hill, who lives in Connecticut and is a silent partner, met through mutual contacts and co-owned Proactive Staffing Solutions from 1998 to 2003. In 2003, they formed Twirly Girl, an online children's clothing retailer that does $500,000 annually in sales.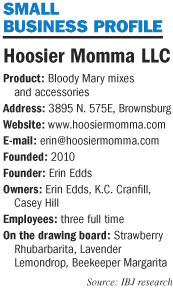 By the time the new partners came on board, Hoosier Momma had established 30 customer accounts, largely through word of mouth. Edds said she was "sought out" by Café Patachou after managers heard about the Blood Mary mix that Edds brought everywhere she went.
"I knew they had a great product," said Chris Eley, owner of Goose the Market at 25th and Delaware streets, one of the first outlets to carry Hoosier Momma. "The beverage market is a difficult market to tap into. To get to where they are now, they've done a great job with that—getting on the shelves, but especially getting into restaurants and bars."
By December 2010, Hoosier Momma was in 70 outlets, primarily bars and restaurants. Then Olinger Distributing Co. picked up the account in Indiana, more than quadrupling the number of outlets, including Marsh and Whole Foods stores.
"Before Olinger was on board, it was exclusively social contacts and then just getting out there and walking in doors and knowing how to talk to a restaurant owner or a chef," Edds said. "With Olinger, they have 140 sales reps. We're covered from South Bend to Fort Wayne to Evansville to Lawrenceburg."
Finding a niche
Hoosier Momma's niche is in producing vegan, gluten-free, low-sodium mixes. Edds said she will not compromise the value of producing "clean, basic, simple, pure as we absolutely can be" products.
The primary ingredient is Indiana-grown tomatoes, but another key component is a Worcestershire sauce that contains no anchovies or wheat products.
Cranfill said the company's products are popular with older customers who "are paying attention to what they're putting in their body," baby boomers who are having to watch their sodium intake, and under-30 customers, for whom it's "hip to be green."
"If you look over the last several years in Indianapolis, just at the growth of farmers' markets alone, that's telling you people are looking for fresh, in-season and local foods," said Victoria Wesseler, the author of Going Local, a blog that covers locally sourced foods, and the owner of a small farm in Lebanon.
She said Hoosier Momma's growth proves that quality matters, too.
"Their mix is superior," Wesseler said.
And its appeal goes beyond drinks. Wesseler has published several recipes using Hoosier Momma as a cooking ingredient.
Hoosier Momma also has drawn national attention, participating in this month's Tales of the Cocktail convention in New Orleans, an international industry conference for bartenders, chefs and restaurant professionals.
The brand was one of three non-liquor products to be nominated as Best New Drink at the convention's Spirited Awards. That nomination led to Hoosier Momma's mix being used at the convention's VIP breakfast July 24.
"It's a self-selecting group of products," said Claire Bertin-Lang, a consultant who works with Tales of the Cocktail's awards ceremony. "Those who participate know they can't fool anybody. It's a discriminating audience. When you go to Tales, you know you're not going to get a bad drink."
Slow and steady
With that initial growth spurt behind them, Edds and Cranfill said they are trying not to get too big too quickly.
While Edds and Cranfill did not disclose a revenue figure, they said the business has become profitable and has no debt. They said future projections are a constantly moving target, as several potential new arrangements—including the Kentucky distribution deal—could change the company's forecasts for the better.
Within a year, Edds would like Hoosier Momma to be well-established in Kentucky and have widespread distribution in Illinois and Ohio. But she and Cranfill want to focus on "slow, controlled, steady" growth. They've already experienced the growing pains so they can hit the ground running in new markets.
"What we do have is a very strong brand out of the gate," Edds said. "We don't have to worry about things in Indiana with label changes and manufacturing issues. All of those headaches we had to persevere here, we've been there, done that.
"Now, we can go physically down into Kentucky and market, promote, do events, everything we need to do in order to have the saturation that we have here. That's just the tip of the iceberg."•
Please enable JavaScript to view this content.