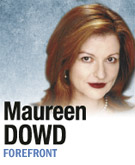 When it comes to throwing a little chin music, even the Rocket himself could learn something from Judge Reggie Walton.
The man is fierce.
In a season when a bunch of high-profile prosecutions have slipped on banana peels, the 62-year-old U.S. District Court judge is an ace.
Lately, government lawyers have been acting like fumbling farm teams at the show. The latest prosecutorial implosion took place in federal court in Washington, D.C., on July 14. Justice Department lawyers spent millions preparing a case with 45 witnesses against Roger Clemens, charging him with lying to Congress about using steroids and human growth hormone.
But the trial had barely begun when those lawyers made what Tom Boswell, the Washington Post sports sage, called "the most shocking, inexplicable error in modern baseball history."
With a high, close pitch at the government team, the judge declared a mistrial. "I think that a first-year law student would know you can't bolster the credibility of one witness with clearly inadmissible evidence," he said angrily.
Before the testimony started, Walton had said that an affidavit from Laura Pettitte was inadmissible. She had stated that her husband, Andy, who was Clemens' teammate, told her that his pal had confided that he used human growth hormone. It was hearsay.
But on day two, the prosecutors played video of the Capitol Hill hearing in which a congressman talked to Clemens about how compelling Laura Pettitte's affidavit was. They even left her testimony on the monitors in the jury box while they gathered at the judge's bench.
It was such a chuckleheaded move that no one was sure whether the prosecutors had forgotten the judge's ruling or were trying to sneak the testimony through a back door.
"Government counsel doesn't do just what government counsel can get away with doing," the judge said sternly.
Walton also upbraided Clemens' folksy Texas lawyer, Rusty Hardin, for not objecting the instant the video began playing.
Clemens may benefit from the double jeopardy rule, and the case could disappear. But like Casey Anthony and Dominique Strauss-Kahn, he will not be seen as an innocent.
I watched Clemens on the first day of testimony. As he entered the courtroom with gelled hair and a gray suit, he still had a shadow of swagger left from the glory days. Determined to show the opposite of 'roid rage, he sat calmly at the defense table, not reacting to anything either side said.
But Reggie Walton was the dominant force in the courtroom. He began promptly at 9 a.m. He chastised the Clemens family for tweeting trash-talk about his former trainer and chief accuser Brian McNamee, and about Andy Pettitte and Pettitte's family. He warned the jurors not to doze, and he himself was upright at a standing desk for hours of opening statements.
"I don't think God has given us a supernatural ability to sleep and listen at the same time," he said.
Walton is known for his tough sentences. He presided over Scooter Libby's perjury trial in 2007 and gave Libby a 30-month sentence, commuted by President George W. Bush.
As a black child growing up in a smoggy Pennsylvania steel town on the Monongahela River, he saw his parents experience prejudice. As a promising young football halfback, he felt the disappointment of an ankle injury that shattered his dreams of playing professionally. As a bellicose teenager hanging with a bad crowd, he sometimes carried a gun and a razor. He got into violent street fights and was arrested three times before turning his life around.
As Pete Yost chronicled for The Associated Press, Walton regularly talks to troubled teenagers. He insisted to one skeptical group of boys in a Maryland detention center: "You can do something constructive with your life."
Maybe he should tell that to the Rocket.•
__________
Dowd is a New York Times columnist. Send comments on this column to ibjedit@ibj.com.

Please enable JavaScript to view this content.