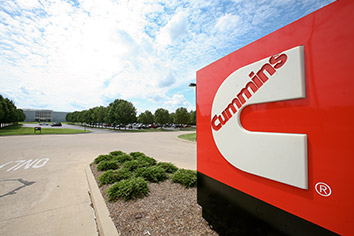 Cummins Inc.'s second-quarter profit more than doubled on a steep increase in sales and a gain on the sale of its exhaust business, the Columbus, Ind.-based engine maker said Tuesday.
The results came in well ahead of Wall Street estimates and the company boosted its sales prediction for the year. Cummins shares had jumped about 5 percent, to $111.91, by mid-day.
Cummins earned $505 million, or $2.60 per share, up from $246 million, or $1.25 per share, in the same quarter last year. Excluding the one-time gain on the sale of the exhaust business, Cummins said it posted an adjusted profit of $2.41 per share.
Sales rose 45 percent to $4.64 billion from $3.21 billion in the year-ago period.
Analysts, on average, expected a profit of $2.07 per share on $4.4 billion in sales, according to a FactSet survey.
Cummins, which makes diesel engines and power-generation equipment, said sales at its engine segment jumped 53 percent to $2.9 billion as a result of strong growth in worldwide truck markets and off-highway markets including mining and oil and gas.
Meanwhile, sales at Cummins' components business rose 42 percent to $1 billion, as North American demand for on-highway products continued to recover. Sales at the company's distribution segment rose 36 percent to $785 million, while power generation sales rose 28 percent to $909 million.
The company boosted its sales forecast for 2011 to $18 billion from its April prediction of $17 billion. Analysts expect $17.34 billion in sales for the year, according to FactSet.
Please enable JavaScript to view this content.