Last week, I wrote about some of the latest shows on Broadway. But when I returned from New York, I had a lot of catching up to do.
Here are reports from back-to-back-to-back evenings of Indy arts—in reverse order because the best came last.
Sunday
"The Eel Catchers," a new play by Bennett Ayres (through Aug. 7 at Theatre on the Square), is anchored in a historic anecdote that could lead to a very bad play: A 25-year-old Julius Caesar was captured by pirates in 75 B.C.
The subject lends itself to a broad range of approaches—from Shakespearean drama to sillyspoofery—but Ayres makes an ingenious and gutsy move: He crafts a sincere, seedy drama in the Jim Thompson style (hard-boiled stories about tough-but-vulnerable crooks whose human frailties get in the way of their "perfect" crimes).
In Ayres' taut drama, tough smuggler Lenckos and his alcoholic younger brother Ahmet nab the future Roman ruler with the help of an escaped slave/possible fortune-teller, whose nickname I won't repeat here. The action begins after the crime, in the waiting period as the trio jockeys for control over the situation and one another. I'll say no more about the story. Why spoil a good thing?
I will say, though, that Ayres is well-served by local leading men Doug Johnson and Ben Tebbe (the latter fresh from the lead in the Phoenix's "Avenue Q"). Both create living, breathing, flawed and confused men without the ironic detachment that could kill the drama. Sincerity is key to this kind of material. We have to believe that any mistake can be fatal. And I did.
I'm not convinced that the introduction of a fourth character late in the 75-minute, intermission-less play is
really necessary. But with Director James Tillett, actress Erin Cohenour (more committed and stronger here than any other time I've seen her) and smart, simple stage design, the ad hoc "The Eel Catchers" company has crafted an edge-of-your-seat noir drama that was one of my most surprising theater-going pleasures in recent memory. And tickets are only $12. Details at www.tots.org.
Saturday
For sheer high-spiritedness, I can't imagine anyplace better to spend an evening than the finals of the ComedySportz World Championships at the Athenaeum July 23.
In this variety of improv competition, "winners" and "champions" are relatively arbitrary things, with points for the two competing teams often allocated on the whim of a referee. The fact that Indianapolis "won" the final bout isn't necessarily an achievement for the record books.
Still, with teams on hand from as far away as Manchester, England, the crowds were bigger and the energy upped. I caught two shows on Saturday night. (For the second one, I was one of three semi-useless judges.) Was it any funnier than a typical Friday show farther up Mass Ave at ComedySportz's regular home? Not really. But that's a positive comment about Indy's group, not a negative one about this event.
The referees—crucial emcees for these affairs—certainly stepped up their games. I particularly appreciated one who, in lieu of a coin flip, gave an impromptu "trust fall" in order to determine which team would go first.
For more on the weekly ComedySportz matches, visit www.indycomedysportz.com.
Friday
Time management proved a problem at Symphony on the Prairie June 22 when a baffled crowd hooted and hollered but couldn't get guest Arlo Guthrie to come out for an extra song or two after a short second-act set. I learned later that the first half, featuring the Indianapolis Symphony Orchestra and crowd-pleasing string trio Time for Three, went long, prompting Guthrie to cut four songs from his planned playlist.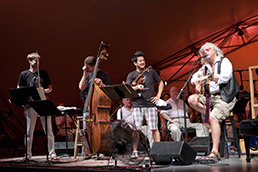 A sweltering Symphony on the Prairie concert offered the inspired pairing of string trio Time for Three with folk icon Arlo Guthrie. (Photo Courtesy Indianapolis Symphony Orchestra/Casey Mullins)
A shame, because Guthrie was in particularly good voice, wasn't afraid to stop the band when he felt like rambling (an Arlo trademark), and brought with him well-balanced orchestral arrangements. The set kick-off, "Darkest Hour," led to a fairly melancholy, apolitical run of songs, including "St. James Infirmary," which gave the ISO a chance to get its New Orleans game on. The energy picked up with his hit "City of New Orleans" and an enthusiastic sing-along to his father's classic "This Land is Your Land."
"On a night like this when us people are singing together," said Arlo, "it fixes things in you that you didn't know was wrong."
Amen to that.
Visit www.indianapolissymphony.org for more ISO info.
Thursday
It would be easy to blame the small midweek crowd around me for the lackluster energy at Phoenix Theatre's "With a Bang." But with muddy dramaturgy, characters lacking urgency, and a grab bag of styles that didn't quite mesh, I'm of the belief that Pete McElligott's play—the first in a trilogy—just needed more time to develop before the Phoenix's production.
The play concerns a woman who finds herself in the midst of an apocalyptic battle involving an incomplete manuscript and a string of dead bodies. But presented with a nod toward the graphic novel esthetic, the play lacks the page-turning energy of the best of that genre.
Some of the violence works (I can appreciate a good trash-can-lid-to-the-head as much as the next guy) while some feels hesitant (Why, oh, why do they keep cutting one another's legs?). A key second-act joke is too similar to one in "Monty Python and the Holy Grail," although it might have worked if the actor involved had been committed to the character instead of the gag.
Still, a disappointing play isn't the end of the world.
Find more at www.phoenixtheatre.org
Wednesday
Led by the amiable Don Farrell, Actors Theatre of Indiana's production of "The Andrews Brothers"—like "Nunsense," Forever Plaid," et. al—is a small-cast, single-set piece packed with minimal plotting, broadly brushed characters and catchy tunes.
In this case, the music is that of the Andrews Sisters, fictionally sidelined on their way to a USO tour. A trio of stagehands improbably takes over, offering a drag version of the ladies' act that takes up the entire second half. Imagine "Honey Bun" from "South Pacific" extended to 45 minutes or so and you're getting close.
"The Andrews Brothers" offered no surprises, but wasn't designed to surprise. It's a bit of theatrical fluff, decently sung and compactly staged, offering a fun if forgettable night of theater. And a reminder of the pleasures of "Don't Sit Under the Apple Tree" and others of its ilk.
The show closed July 24, but find out more about Actors Theatre of Indiana productions at www.actorstheatreofindiana.org. •
__________
This column appears weekly. Send information on upcoming arts and entertainment events to lharry@ibj.com.
Please enable JavaScript to view this content.