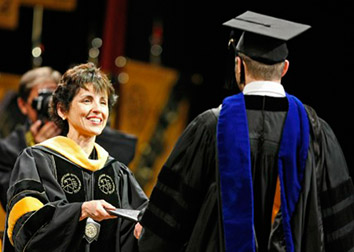 France Cordova will receive a 3.5-percent raise in her last year as Purdue University president.
Purdue said Thursday the increase will boost Córdova's salary by $15,750, bringing her annual base pay to $465,750.
Cordova said a few weeks ago she would step down next summer when her contract expires.
The Journal & Courier noted that Cordova wasn't getting as big an increase as two other Indiana university presidents.
Indiana University President Michael A. McRobbie will receive a 12-percent pay increase for the 2011-2012 academic year, while Ball State President Jo Ann Gora will get 10 percent.
Please enable JavaScript to view this content.