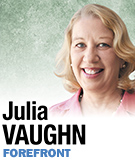 An important discussion regarding campaign fundraising for local elections has begun in Fort Wayne and it is past time the same discussion occurs here in Indianapolis. Thanks to a recent proposal by Fort Wayne City Council member Liz Brown to ban campaign contributions from those with city contracts, the issue of "pay to play" has been put on the front burner in the Summit City.
The question for those of us who live in the Circle City is whether anyone in the City-County Building cares about the strong appearance of impropriety that is created when city contractors become the predominant financiers of local campaigns, and will they take this issue on?
For too long, candidates for county and city offices have taken for granted that a large percentage of their campaign war chests come from individuals and entities seeking to do business with local government. Of course, both the contributors and candidates claim that nothing nefarious is at hand, but the appearance of impropriety is strong and gives the public yet another valid reason to question how decisions are made and to lose faith in government.
Consider the recent decision by the Ballard administration to enter into a public/private partnership to build a parking garage in Broad Ripple, with the city chipping in a generous $6.35 million in public funds. Apparently it's just a coincidence that the winning bidder, Keystone Group LLC, and its principals have made more than $28,000 in political contributions to the mayor's re-election campaign.
Just a quick scan of Ballard's campaign finance reports and that of his Democratic opponent Melina Kennedy reveals that developers, engineers, attorneys and others seeking to profit from making deals with the city are weighing in heavily with campaign cash. And this situation is nothing new; past administrations have played the same game.
The Fort Wayne proposal to ban contributions from contractors has run into some significant roadblocks, particularly a memo from attorneys at the State Election Division that claims the proposed ordinance is not authorized under state law because it attempts to exercise the "power of elections," something withheld from municipalities by the General Assembly.
Another Indiana city has taken a different approach to protect the integrity of local elections. In 2006, Jeffersonville passed an ordinance that limits contributions from city contractors to $200 a year. This ordinance has not been challenged by the state.
While I encourage local governments to push the envelope on this issue and exercise their right to home rule, approaches short of strict limits or a contribution ban would help address this problem. First, we need better campaign finance disclosure to ensure voters have a clear picture about the source of contributions.
While state law requires contributors of more than $1,000 to disclose their occupation, this information is not complete without disclosure of the contributor's employer. Instead of waiting for the state to act, Indianapolis mayoral and council candidates should voluntarily include this information on their campaign finance reports.
Additionally, while candidates' campaign finance filings are available on the City-County website, sifting through hundreds of pages makes any analysis difficult. The county clerk should create a searchable database to help citizens understand who is underwriting political campaigns in Marion County.
Just four years ago, when Ballard was an underfunded underdog candidate, he complained about the fundraising advantage Mayor Peterson enjoyed through the ability to get contributions from city contractors. That money is now flowing to Ballard and he seems to have no problem accepting it. The obvious question for voters: What has changed?
Candidate Ballard was right to criticize pay-to-play in 2007. Mayor Ballard sure looks like a hypocrite if he is not willing to address the issue in 2011.•
__________
Vaughn is policy director for Common Cause/Indiana, a nonpartisan citizens lobbying organization that works for open, honest and accountable government. Send comments on this column to ibjedit@ibj.com.

Please enable JavaScript to view this content.