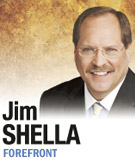 Former Gov. Otis Bowen is 93. He is in the sunset of life and there is no better time to remind people of his immense political skills and contributions. I have an idea for a lasting and appropriate tribute to his service, but first let me offer some small examples of how he played the game.
I'm always amused when people who don't know Doc Bowen, or know about him, see his official portrait hanging in the governor's reception area. They usually make fun of the sky-blue suit with the white piping.
Never mind that the fashion speaks volumes about the 1970s in which he served. It makes the portrait historically significant. Do you think he knew that on the day he was to pose for the artist, as he passed over the navy suit in his closet, the one just like the one almost every other governor wore for his portrait?
The man who was known as both a kindly physician and a cutthroat dealmaker manages to show both sides of his personality in the painting. First, he is sitting, and smiling. There is nothing gubernatorial in the pose, which includes his hands extended with the fingertips and thumbs meeting in front of him. His thumbs are poised to twiddle. He looks grandfatherly.
But those who know will tell you the thumbs are significant. When you won an audience with Bowen, there was a time limit. When the governor had heard enough, he actually began to twiddle those thumbs. That's when an aide told you the governor had other commitments he needed to address. You were headed for the door. The governor was the good cop. Shrewd stuff, artfully displayed.
Example No. 2 involves the late Richard Mangus. He used to tell a story that explained the Bowen approach in a nutshell. Mangus was first elected as a state representative from Lakeville after he emerged from a three-way GOP primary. He won by promising never to vote for a tax increase.
Then, Bowen asked for a tax increase. Mangus voted no.
Before a second vote on the tax hike, the new lawmaker was summoned to the governor's office. Bowen was unhappy. He attempted to convince Mangus the tax hike was necessary. No sale. When it became apparent that logic wouldn't work, Bowen didn't do the thumb trick; he turned to the wall with his back to Mangus.
"We'll just have to find you a primary opponent!" he declared.
When the tax increase came up a second time, Mangus hit the green light. A reporter from his home area hurried across the House floor to demand an explanation. After all, Mangus had just broken a campaign promise, the sort of thing that kills political careers. The answer: "Ask him!" Mangus pointed to the floor and the governor's office below it as he said it.
The next day, Mangus got a front-page newspaper headline in his hometown that was the sort of thing politicians live for. "Mangus a Hero!" it read, quoting the governor.
No one recruited a primary opponent for him in the next election, voters accepted his change in position, and Mangus went on to a long career in the Legislature, a tenure he always attributed to Bowen.
Bowen's career advanced, too. He went on to serve in Ronald Reagan's cabinet after a time teaching at the Indiana University Medical School on the IUPUI campus. And that's where we get to my idea for a lasting tribute.
Change the name of IUPUI to Bowen University. Do it now. Honor Bowen while he's still alive.
IUPUI needs it. You could come up with a clumsier name for a college than Indiana University-Purdue University at Indianapolis, but it would be tough. The place needs an identity and that has been a source of concern in the Statehouse for decades. Remember how Indiana Central stole the name former state Sen. Larry Borst wanted for IUPUI and became the University of Indianapolis?
Bowen State University works, too.•
__________
Shella is WISH-TV Channel 8's political reporter as well as host and producer of the Emmy-nominated "Indiana Week in Review." Send comments on this column to ibjedit@ibj.com.

Please enable JavaScript to view this content.