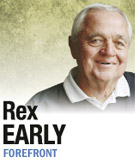 On April 19, 1775, a Massachusetts militiaman named Paul Revere made his famous ride from Lexington to Concord to notify the colonial minutemen of the pending British invasion.
Two months later, the Continental Army was created, and Virginia militiaman George Washington was selected to be its first general. Those militiamen from the 13 colonies composed the first National Guard.
All 50 states have a National Guard, and Indiana, which ranks 16th in population, has the fourth-largest Army National Guard. Indiana now numbers about 15,000 soldiers and airmen, all of whom are volunteers.
The Indiana Guard has one of eight Guard division headquarters, one of 28 brigade combat teams, and one of eight combat aviation brigades.
Despite the fact that the United States is now in the longest conflict of its history, the Indiana National Guard is at 109-percent strength. Those strong numbers are a tribute to the patriotism, devotion and selfless service of Hoosiers.
Since 9/11, the Indiana National Guard has deployed close to 19,000 soldiers and airmen to points around the globe.
The support of Indiana businesses that have employed many of those 19,000 citizen-soldiers has been phenomenal. Their jobs were waiting for them upon their return despite the fact that some of the deployments lasted longer than a year.
All National Guard units have two missions:
Mission one is defense of the homeland during or after natural or man-made disasters.
One of the most noted examples was the Indiana Guard's action following Hurricane Katrina. The Indiana Guard was called to assist those needing help immediately, responding the first day with some 2,700 Hoosier guardsmen who did yeomen's work in the disaster areas.
In 2010, both the Indiana Army and Air National Guard helped the State Police and other homeland security and law enforcement agencies break up a marijuana business, from which 19 arrests were made and an estimated $50 million of street-value marijuana was destroyed.
The ice storms Indiana experienced in early 2011 also brought an immediate response and some 1,100 guardsmen called out to help on 80 missions throughout the state.
Mission two is national defense, fighting our nation's wars.
The Indiana Guard has distinguished itself when called upon to defend this nation's freedom.
Some Indiana Guard units like the 151st Infantry Regiment, headquartered in Greenfield, have a long history. They trace to the Indiana Territory militia that engaged in the 1811 Battle of Tippecanoe. That militia was renamed the Indiana National Guard in March 1895, and since has been involved in the Mexican-American War, Civil War, Spanish American War, Mexican Border Campaign, World War I, World War II, Vietnam War and Operation Iraqi Freedom.
The Indiana Guard Ranger Company served intact in the Vietnam War and earned more medals in 1969 than any U.S. Army company in a one-year period. This company was awarded 174 Bronze Stars, 120 Air Medals and 110 Purple Hearts. Other Indiana Guard units have similarly distinguished themselves.
The Indiana National Guard also hosts domestic and international agencies for training in urban warfare. The Urban Training Center is on the former Muscatatuck Hospital grounds, which is part of the Atterbury training area.
This facility trains not only guardsmen from all over our country, but also rangers, special forces, Navy seals and other deployment units.
Recently, Army Gen. George Casey commented to Indiana's adjutant general Maj. Gen. R. Martin Umbarger that the performance of the Indiana National Guard on the field of battle was equal to that of any of his active units.
That was a great compliment, but it comes with a price. Nineteen of Indiana's volunteer soldiers while deployed in harm's way have given the ultimate sacrifice for their country since 9/11.
When you thank those who are serving or have served our country, make sure to include the men and women in the Indiana National Guard.•
__________
Early served in the Indiana House and as a Republican state chairman, as well as on the Republican National Committee. Send comments on this column to ibjedit@ibj.com.

Please enable JavaScript to view this content.