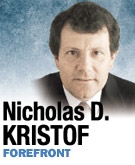 In these polarized times, few words conjure as much distaste in liberal circles as "evangelical Christian."
That's partly because evangelicals came to be associated over the last 25 years with blowhard scolds. When the Rev. Jerry Falwell and Pat Robertson discussed on television whether the 9/11 attacks were God's punishment on feminists, gays and secularists, God should have sued them for defamation.
Partly because of such self-righteousness, the entire evangelical movement often has been pilloried among progressives as reactionary, myopic, anti-intellectual and, if anything, immoral.
Yet that casual dismissal is profoundly unfair of the movement as a whole. It reflects a kind of reverse intolerance, sometimes a reverse bigotry, directed at tens of millions of people who have actually become increasingly engaged in issues of global poverty and justice.
This compassionate strain of evangelicalism was powerfully shaped by the Rev. John Stott, a gentle British scholar who had far more impact on Christianity than media stars like Robertson or Falwell. Stott, who died a few days ago at the age of 90, was named one of the globe's 100 most influential people by Time, and in stature he was sometimes described as the equivalent of the pope among the world's evangelicals.
Stott didn't preach fire and brimstone on a Christian television network. He was a humble scholar whose 50-odd books counseled Christians to emulate the life of Jesus—especially his concern for the poor and oppressed—and confront social ills like racial oppression and environmental pollution.
Stott also gave examples of the injustices that Christians should confront: "the traumas of poverty and unemployment," "the oppression of women," and in education "the denial of equal opportunity for all."
For many evangelicals who winced whenever a televangelist made the headlines, Stott was an intellectual guru and an inspiration. Richard Cizik, president of the New Evangelical Partnership for the Common Good, who has worked heroically to combat everything from genocide to climate change, told me: "Against the quackery and anti-intellectualism of our movement, Stott made it possible to say you are 'evangelical' and not be apologetic."
The Rev. Jim Wallis, head of a Christian organization called Sojourners that focuses on social justice, added: "John Stott was the very first important evangelical leader to support our work at Sojourners."
Stott, who was a brilliant student at Cambridge, also underscored that faith and intellect needn't be at odds.
Centuries ago, serious religious study was extraordinarily demanding and rigorous; in contrast, anyone could declare himself a scientist and go in the business of, say, alchemy. These days, it's the reverse. A Ph.D. in chemistry is a rigorous degree, while a preacher can explain the Bible on television without mastering Hebrew or Greek—or even showing interest in the nuances of the original texts.
Those self-appointed evangelical leaders come across as hypocrites, monetizing Jesus rather than emulating him. Some seem homophobic, and many who claim to be "pro-life" seem little concerned with human life post-uterus. Those are the preachers who won headlines and disdain.
But in reporting on poverty, disease and oppression, I've seen so many others. Evangelicals are disproportionately likely to donate 10 percent of their incomes to charities, mostly church-related. More important, go to the front lines, at home or abroad, in the battles against hunger, malaria, prison rape, obstetric fistula, human trafficking or genocide, and some of the bravest people you meet are evangelical Christians (or conservative Catholics, similar in many ways) who truly live their faith.
I'm not particularly religious myself, but I stand in awe of those I've seen risking their lives in this way—and it sickens me to see that faith mocked at New York cocktail parties.
Why does all this matter?
Because religious people and secular people alike do fantastic work on humanitarian issues—but they often don't work together because of mutual suspicions. If we could bridge this "God gulf," we would make far more progress on the world's ills.
And that would be, well, a godsend.•
__________
Kristof is a New York Times columnist. Send comments on this column to ibjedit@ibj.com.

Please enable JavaScript to view this content.