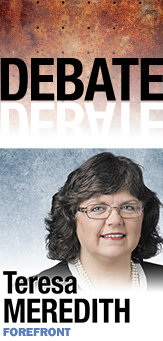 Question: Education reforms passed in this year's General Assembly addressed schools and teachers, but not parents. Should parents also be held accountable for the academic performance of their children?
Answer: Parents are an essential piece in the ever-changing puzzle that supports the foundation for educational victory. Policymakers, schools and educators must be realistic in their expectations for parents with the challenges families face.
A lifetime ago, the distinction was clear. Parents were parents and teachers were teachers.
The lines have blurred as schools take on more of the students' needs for social, nutritional and health-related demands. Lives have changed for parents, too. Children are raised by grandparents, aunts, uncles, foster parents, single parents. Some are homeless. More parents must work and spend more time away from home. They work night and weekend shifts.
Blending the needs of Hoosier households demands that adjustments be made. Parents, schools, teachers and the community must work together to set the bar for expectations rather than to demand accountability.
Schools hope that parents provide basic food, clothing and shelter. Schools hope that parents get their children to school every day, help with homework, attend meetings and set positive role models for work, health and lifestyles.
Teachers want parents to talk with their children about schoolwork, homework and peer issues. Yet, even these basic expectations become challenges.
Teachers can help parents and guardians by knowing parents by name, understanding family circumstances and communicating both positive gains and problem issues.
Schools can improve the bond by reporting absences and tardiness, communicating with families about school needs and successes, welcoming parents as partners, and including parents in classroom and school functions.
The local community can build links by supporting school efforts with donations of time and supplies, by promoting school events, and by encouraging parents and employees to support educational community events.
Unfortunately, educators know that many students lack adequate family support and that parental involvement wanes as students advance through grade levels—especially for those children most at risk. For some students, the only adults they see during their waking hours are those in the educational community.
According to the U.S. Department of Education, only 8 percent of middle school parents are involved as school volunteers, compared with 33 percent in the first grade.
A colleague who teaches special ed says that a child's education is an intricate puzzle, with the pieces being the schools, students, teachers, community members and parents. If one piece is missing, the puzzle is not complete.
Educators across the state work daily to align the pieces and to embrace the needs and services of today's students. Schools are trying to fill the gaps by providing before- and after-school care, introducing breakfast and lunch programs, donating supplies, and offering free social and health services.
Reform efforts cannot produce these types of avenues for support or guarantee parental involvement. How can a top-down policy govern the critical factors present in homes of the more than 1.3 million students in Indiana schools?
Parents must make efforts to be more involved and help their children. Schools must adjust their expectations to the realities of the children in their schools. Teachers should strive to meet the needs of all learners by strengthening the bonds between home and school. And the community can send a message of support to families and students in Indiana's more than 1,900 schools.
Fitting all the pieces together successfully is a daunting goal, but effective partnerships build success among parents, teachers and students.
It's up to all of us to make sure solid partnerships happen and succeed.•
__________
Meredith is vice president of the Indiana State Teachers Association and has taught more than 18 years in Indiana schools. Send comments on this column to ibjedit@ibj.com.

Please enable JavaScript to view this content.