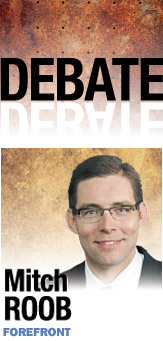 Question: Gov. Mitch Daniels in recent months has boasted about luring jobs to Indiana from Illinois. Is offering incentives to attract jobs from neighboring states good public policy?
Answer: Our recent billboard campaign—Illinnoyed—in and near Chicago was a little tongue-in-cheek, but it got our point across. The jobs and economic development sandbox Gov. Mitch Daniels has created to lure business to Indiana and nurture home-grown companies is working. Our lower taxes, a quick and predictable regulatory climate, and fiscal stability—not state incentives—are the keys to success.
For some time, Illinois has tried futilely to tax its way into prosperity and spend its way out of debt. In January, Gov. Quinn and the Illinois General Assembly raised Illinois' corporate income tax 30 percent and its individual income tax rate 67 percent. This action earned the state the fourth-highest combined national-local corporate income tax in not only the country, but also the industrialized world.
Indiana controlled spending so we could cut taxes, including lowering our corporate tax rate by almost a fourth this year.
As sure as summer follows spring, investors in Illinois are looking at other options, and Indiana is ready to help. The contrast between Illinois and Indiana when it comes to fiscal prudence, balanced budget and excellent business climate could not be more stark.
Illinois has dropped 40 places in five years in Chief Executive Magazine's 2011 state business climate rankings. Indiana improved 10 spots in the same study and is sixth in the nation, first in the Midwest. Moreover, Illinois ranked 48th on Chief Executive's list of best and worst places for business, and its bond ranking is 49th, while Indiana's is AAA.
Regional cooperation is a lauded goal and one we routinely pursue when it makes sense. Hence, we're working with Illinois on the proposed Illiana Expressway in northwestern Indiana. But some Illinois companies have elected to look at locations in other states.
We would do a disservice to our citizens if we didn't pursue these opportunities. So far this year, 13 Illinois companies have decided to expand or move operations into Indiana, and there are more in the works.
Illinois is handing out cash to its own long-standing headquartered companies—not to add jobs, but just to stay put. Sears, Caterpillar and the Chicago Board of Options Exchange have publicly indicated that they are looking for new locations. Motorola received $100 million to stay in Illinois for the next 10 years, with no promise of growth in jobs.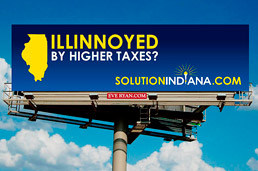 (Photo Courtesy Indiana Economic Development Corp.)
Can Illinois afford this? Do the math: It owes $8 billion in overdue bills to businesses and community organizations that have done work for the state, $1.2 billion in state employee health insurance payments, and $850 million in overdue tax refunds to citizens. Its general fund balance was the lowest it has ever been, $4.7 billion at the close of fiscal year 2010, and has a projected budget shortfall of $5.3 billion for fiscal year 2012.
Here, Gov. Daniels evaluates Indiana Economic Development Corp. on how well we attract business and expansions while avoiding huge incentives. The keys for firms looking to leave Illinois are our lower taxes, including the lowest property taxes in the country, and the reasonable belief that future governors and legislators will not have to raise taxes to balance the budget.
Our incentives are performance-based and no-risk. No jobs, no incentives.
When we offer incentives, site selection consultants tell us our costs are routinely one-half to one-third lower than other states'. Our year-to-date cost per job is $8,454, down from around $37,000 in previous administrations, and our board of directors, chaired by the governor, reviews this number at every meeting and presses us to minimize it even while winning investment competitions.
Is it good public policy for Indiana to create the best business climate it can? Yes, and we make no apologies if our neighbor to the west is a little Illinnoyed.•
__________
Roob is Indiana secretary of commerce and CEO of the Indiana Economic Development Corp. Send comments on this column to ibjedit@ibj.com.
Please enable JavaScript to view this content.