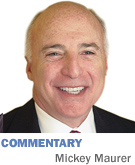 Taking a leaf from the best-selling book "Water for Elephants" and the movie of the same title, Mickey's Camp is offering the flying trapeze this summer. That's right. If you dare, you can swing through the air and get caught (hopefully) by a professional circus trapeze artist.
In addition to trapeze, Mickey's Camp has added activities such as acupuncture, acting, archery, handicapping horses, cribbage, horseshoes and racing simulators.
Many old favorites are returning, too. They include billiards taught by "The Black Widow" Jeanette Lee—holder of more than 30 national and international titles—and boxing fitness with U.S. Olympic coach Hank Johnson.
You can "look at the birdie" with both Dawn Patel, a member of the U.S. Women's National Badminton Team, and world-renowned photographer Pamela Mougin. Poker Hall of Famers Jan Fisher and Linda Johnson will again sharpen your skills on the felt and conduct the camp poker tournament.
You will catch bass if you listen to Terry McWilliams, one of the top finishers in the 2007 Bassmaster Classic. You also can participate in an exciting police training exercise and learn to fly radio-controlled airplanes. You also will have the opportunity to take a tennis lesson from P.A. Nilhagen, known in international and national tennis circles as a master technician, motivator and coach.
Former Writer's Digest publisher Jane Friedman will cover the basics on how to get your book published; Indiana astronaut David Wolf will bring photographs to illustrate his exciting and dangerous career in space; and Matt Tully, award-winning columnist for The Indianapolis Star, will share insights into the always entertaining world of Indiana politics. You can engage in a sports dialogue with Quinn Buckner, the Indiana Pacers analyst and one of only three basketball players to win a championship on every level: high school, college, Olympics and NBA. Can you name the other two?
As for food, also returning this year is Max McCalman, one of the cheese world's living legends. Chef JJ Boston from Chef JJ's Back Yard will lead campers in a hands-on grilling class, and master chef John Oliver, graduate of the prestigious Johnson and Wales University, will share his techniques, tools and gadgets as he leads campers through the preparation of a three-course meal.
A sommelier from Italian Wine Merchants of New York, the leading authority on Italian wines, will present a tasting of indigenous varietals from the Boot. The shooting range also will be open, offering instruction in rifle, pistol and shotgun—but this is not recommended for the time immediately after wine tasting. Perhaps you'll take that opportunity for a massage and manicure or a relaxing Ai-chi class in the pool.
Come rub shoulders with our women's camp keynote speaker, Angela Braly, board chairwoman, president and CEO of WellPoint Inc. As head of the nation's largest health benefits company, she was named by Forbes magazine as one of the most powerful women on earth. Our keynote speaker for men's camp is Indiana Sen. Dan Coats. He also is the former ambassador to the Federal Republic of Germany.
Meals will be provided by the best restaurants in the area: Café Patachou, Outback Steakhouse, Scholars Inn Bakehouse, Palomino Restaurant, Great Cooks & Co., Fleming's, P.F. Chang's China Bistro, Sullivan's Steakhouse and Harry & Izzy's.
You will have an opportunity to learn new skills and polish old ones. You can choose from among 50 activities—those mentioned above plus others such as beer tasting, belly dancing, raft racing, nature hikes, fly fishing, golf, Pilates and yoga.
Everyone is invited. Camp brochures are at Mickeyscamp.com or you can e-mail me at the address listed below. But act fast: Camp has sold out each year on a first-come, first-served basis. Please join us at scenic Bradford Woods, south of Interstate 465 on State Road 67 near Mooresville. Women's camp takes place Aug. 15-17, and men's camp will celebrate its 11th anniversary session Aug. 17-20. If you have a conflict, then attend the inaugural Mickey's Camp-Ohio (north of Cincinnati) Sept. 7-9.
Help us donate more than $300,000 to charities this summer.•
__________
Maurer is a shareholder in IBJ Corp., which owns Indianapolis Business Journal.  His column appears every other week. To comment on this column, send e-mail to mmaurer@ibj.com.
Please enable JavaScript to view this content.