I'm long past the age of accepting culinary dares. Let others wrestle with burgers as big as hubcaps, massive pizzas conquered in a tight time frame, and other such gastronomic adventures. Truth is, I'm even starting to see the completion of standard bar food entrees as challenges best left half-complete.
Which is not only why I passed on the Triple Bypass, the $35, two-pounds-of-meat-packed sandwich at Detour (110 W. Main St., Carmel, 571-0091), but also why I made it only halfway through its kid brother, the Bypass ($12).
Easily sharable by two or even three mortals, the Bypass features a smaller-but-not-by-much slow-cooked pile of Italian beef packed into an Italian bread trench, amply accented with spicy giardiniera and mixed with melted mozzarella and parmesan. Like a mountain climber, I opted to take it one small step at a time, forking some of the roll and meat, dipping it into the jus, and savoring as much as my stomach could hold.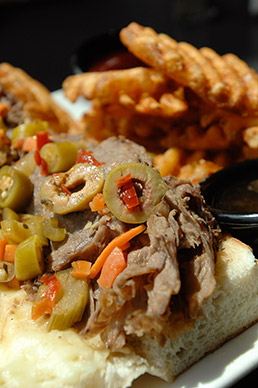 Detour's Bypass packs plenty of braised beef. Diners also can try the Triple Bypass. (IBJ Photo/ Perry Reichanadter)
Of course, I might have been at greater capacity had I not already sampled a hot (both in spice and heat) cup of Chicken Tortilla Soup ($3) thick with black beans, onion and peppers.
Since the place is called Detour, allow me to take a detour from this review and ask a question: What is the responsibility of a restaurant to control distracting, annoying behavior by the children of its patrons? On my visit, a quartet of kids was repeatedly plied with dollar bills and sent from parents at an unseen table at the back to run, screech, push one another, and cry at length by the crane machine near the front of the restaurant where we were sitting. At some point, should the hostess—who was as close as we were—ask the negligent parents to take care of their kids? Or is it purely up to the parents, other patrons be damned? Just asking.
Amid the mine-mine-mine clamor, we also sampled a standard-issue plate of crispy chicken wings ($8 for six). Good enough, but we couldn't distinguish between the sweet barbecue and the spicy barbecue. For a main event, my companion went with the "You're My Boy Blue" Burger ($9), with a nice house-made peppercorn steak sauce but an absurd (yet easily removable) inch-high clod of densely packed onion straws betwixt meat and bun. Again, good, but truth be told, if I were craving a burger in these parts, I'd take a few steps across the Monon to Bub's.
That isn't to say there's not stuff to like here. If you are in the mood to watch a game—on dozens of flat-screen TVs—and take nine innings to devour one entry, this could be a detour worth taking.
Note: In last week's column, an editing error on my part altered the meaning of a sentence in my review of Black Market. It has been corrected on www.ibj.com. The final sentence should have read, "I'm glad Mass Ave now offers another reason to cross College Avenue." I regret any impression of a slight toward Black Market's justly celebrated neighbors.•
–Lou Harry
__________
Second in a month-long series of reviews of new arts district eateries.
Please enable JavaScript to view this content.