Is sports art looked down upon because of its populism, because the subject matter often takes precedence ("Look, it's Walter Peyton"), or because the work itself isn't often of the highest standard?
Whatever the case, a stop at the National Art Museum of Sport, housed in IUPUI's University Place Conference Center and Hotel, always brings pleasure even to a guy such as I, who doesn't pay particular attention to the nuances of professional sports (I love a game as much as the next guy, but don't ask me to name nine current professional baseball players).
A warning, though: Visiting NAMOS can be a challenging proposition. Tucked away at University Place, there's no clear signage outside the building. Try parking in the hotel's lot and you'll have to cough up an absurd $9 for the first hour.
It's cheaper across the street in the Indiana University Hospital lot, but you see that enclosed walkway going over to University Place? Well, surprise, it doesn't actually connect to the inside of the hospital, so you have to take a separate elevator from the sidewalk up to the tunnel. Once you emerge from the tunnel, good luck finding any signage inside University Place indicating where the museum is located.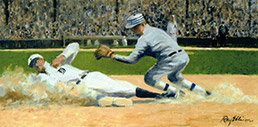 At the National Art Museum of Sport, Ray Ellis' "Cobb Slide" evokes memories of games past. (Photo Courtesy National Art Museum of Sport)
Once you find it, know that your perusal of the work might coincide with the background din of an enthusiastic medical seminar (on my visit) or some other conference activity happening in one of the open-doored classrooms.
It's not exactly MOMA, but sports fans are used to distractions. And while you'll occasionally come across work that could pass for the sketches in the notebook of a bored middle school student and seems celebrated here more because of subject than execution, much of it is well worth the time spent—even if just for a stop on your way to Victory Field or Lucas Oil Stadium.
The current baseball exhibition celebrates 125 years of the sport in Indianapolis with about 45 works from NAMOS' permanent collection.
There's fun—and interesting continuity—in the work of Willard Mullin, whom the National Cartoonist Society named the Sports Cartoonist of the Century.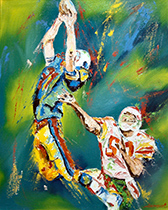 Debbie Sampson's "Catching Colors." (Photo Courtesy National Art Museum of Sport)
Today's readers might be amazed that sports cartooning actually existed as a major feature in metropolitan dailies, but Mullin's work was featured in the New York World Telegram, Time and elsewhere.
It revealed a talented artist who was passionate, enthusiastic and opinionated about his subject. He's justly celebrated for his Brooklyn Dodger Bum character—who appears in multiple works—but there's also a charming melancholy to his "Pago Pago—New York" in which summer rains dampen the season and spirits for personified representatives of baseball, golf and tennis.
More color comes into play in Ray Ellis' dramatic "Cobb Slide," which looks far older than its 2001 vintage. Ellis' "Defending the Green Monster" benefits from the framing of the pitcher and infielder in a way that at first seems off—until you become aware of the title and the true subject of the piece.
Willie Mays makes his famed Ebbets Field catch just below amazed fans in "Willie 8/15/54," a piece by Bernie Hubert, whose great-moments-in-sports specificity is in marked contrast to very different but equally compelling work such as Fay Moore's "Slide."
In the "Football Invitational" exhibition, meanwhile, fans should get a kick out of Charles Fazzino's playful three-dimensional, Where's-Waldo-like tributes to previous Super Bowls (and wonder how he'll treat Indianapolis this winter).
The guy under the helmet could be just about anybody in Benjamin Blackburn's mahogany sculpture "Manning Looking Deep," and Larry Klukaszewski's "The Blond Bomber" wouldn't pass muster as a cereal box illustration, but there's kinetic energy in Debbie Sampson's "Catching Colors," snide humor in Elaine Wolfe's skyward painting "Tom Brady's View of Lucas Oil Stadium," and nostalgic beauty in David Burnett's photograph "Princeton Football."
My favorite piece in both shows: Ken Kalman's "Helmet," a copper sculpture that effectively finds the missing link between gladiatorial combat and the great pigskin game in a piece of battered headgear.
Barring extra innings, NAMOS' baseball exhibition runs through Oct. 5. The football show stays on the field until beyond the Super Bowl, closing Feb. 29. More information can be found at www.namos.iupui.edu.•
__________
This column appears weekly. Send information on upcoming arts and entertainment events to lharry@ibj.com.
Please enable JavaScript to view this content.