Cynthia Hoye didn't hang out at the mall as a teenager.
"I was usually at home in the basement, making something."
That something was always a 4-H project, to enter in the Marion County or Indiana State Fair. It sometimes took the form of building a dressing table, or restoring a rope bed, or constructing a dollhouse and all its furniture. Hoye also raised rabbits in her north-side, suburban garage and two steers on her uncle's farm.
Shaded by another vendor's food stand, Tom Hodson discusses placement of his own equipment with State Fair Commission Executive Director Cynthia Hoye four days before gates open. (IBJ Photo/ Perry Reichanadter)
She grew alfalfa and competed in photography and fine arts and baking and automotive science and public speaking. She danced in talent shows, served as counselor at 4-H camp, and participated in 4-H Junior Leader and National Leadership Achievement programs.
But what practical use can a girl make of such an eclectic childhood resume? Why, run the state fair, of course. (Hoye discusses her suburban roots and current job as "mayor" of the fair in the following video from IBJ's "Leading Questions" series.)
Hoye, 54, has parlayed her lifelong love affair with 4-H and fairs into a career of supporting agriculture and extension programs and finding ways to make a good fair better. She worked for extension offices and fairs in Wisconsin for several years before coming home to join the Indiana State Fair as marketing director in 1988.
Since 2004, she's served as executive director of the Indiana State Fair Commission, the full-time, quasi-governmental body formed in 1990 to operate the fair every August for the Indiana State Fair Board, and to run the fairgrounds year-round.
Hoye has spearheaded an overhaul of the commission's staff structure and led the development of a three-year strategy for the organization—the first comprehensive, long-term plan in 20 years—with a goal to be recognized as the "best and most innovative state fair."
She's also sparked a renewed focus on the fair's mission to promote the state's agriculture and to educate Hoosiers about their food sources.
It was Hoye who five years ago came up with the idea of identifying a commodity each year and using the fair for the industry built around that commodity to "tell its story, what it means to Indiana."
Thus was born the Year of Corn, in 2007. The state's corn industry took center stage in the fair's marketing and promotions. Corn-based foods were spotlighted. Corn was planted throughout the fairgrounds. The theme was such a hit that succeeding years have featured trees, tomatoes, pork and—this year—soybeans.
Hoye's innovative approach to combining the fair's goals to educate and entertain demonstrates the creative passion she brings to her role, according to co-workers and those in the fair industry.
"I have a lot of fun with her," said Andre Lacy, Indiana State Fair Commission chairman. "She's so good it's unbelievable. I just call her boss."
Hoye "understands Indiana," said Margaret Davidson, senior director of the commission's event producer team, one of three divisions created when Hoye led a staff restructuring in early 2010. "She was born and raised here. She was in 4-H, worked at other state fairs. She has taken all that experience and brought it home."
What she also has brought is a contagious enthusiasm to continually reach forward, say those who work with her.
Hoye makes it "easy to send new ideas into the hopper," said Ronald Hoyt, director of the Marion County Extension Office. "She makes people feel as if they want to contribute, want to be part of the success out there."
Hoye's own new ideas include extending the fair an extra five days, from 12 to 17. This is the third year of the three-year experiment, which has gone so well that 17-day dates are set through 2013.
Her smaller-scale ideas include programs like Little Hands on the Farm, an interactive activity for young children that allows them to follow an apple from seed to the grocery by "planting" a tree, "picking" its fruit, taking it on a mini tractor to market, then redeeming the fruit at a store. Davidson said other fairs have copied the idea.
And Hoye's influence outside Indiana doesn't end there. She served a one-year tenure in 2010 as chairwoman of the Springfield, Mo.-based International Association of Fairs and Expositions, which has about 1,300 fair and exhibition members and another 1,300 associate member organizations that provide support services to fairs. Marla Calico, media relations spokeswoman for the group, said Hoye is well-known nationally for her expertise in both agriculture and marketing.
That depth of expertise is not as much a given as one might think in a state fair commission leader. Appointed by the governor, the position is often considered a political reward. Which is why Dave Hummel, fair commission deputy executive director and a 38-year employee, "could not have been happier" to hear Hoye would be promoted to executive director.
She was "someone who really would know the job well" and is respected "around the country," he said.
Calico agreed with that assessment: "When she speaks, people listen."
Hoye said her job is to listen as much as she is listened to. That's why the fair's long-term strategy developed last fall and winter included the input of stakeholders from the board, commission and staff.
"I wanted a specific road map that we could all champion and follow," she said.
The resulting buy-in has been heartening, Hoye said.
"People like having a plan to work off of," she said, "and they're actionable for it."
That road map includes developing new revenue sources, averaging 1 million fair visitors over the next several years, and restoring the grand dame of the fairgrounds—the 72-year-old Pepsi Coliseum—by the end of 2013.
The first step toward that ambitious restoration has already been accomplished, in convincing the Legislature to create a State Fair Foundation as a fundraising platform. The commission plans to launch a capital campaign by the end of this year.
Hoye's emphasis on teamwork also shaped her response to a 27-percent employee reduction the fair commission was forced to swallow last year. Hoye chose to use the challenge to revamp staff structure into three teams—administration, event producer (state fair) and facilities management—that would cross-train and overlap more in their communication.
Her goal was to influence her crew to extend year-round its "can do, will do" fair-season culture.
"We function as a team during the fair," she said, with everyone pitching in to tackle whatever job is needed.
Davidson said the transition was tough, but made easier by Hoye's compassion.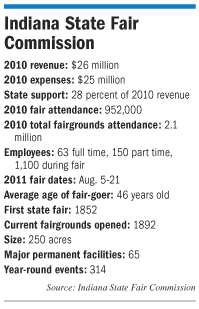 "She wants to take care of her employees," she said. "People know that about her."
Bobbi Bates, the fair commission's special events and entertainment coordinator—and the 1991 State Fair Queen who came to work for the fair because it "gets in your blood"—called Hoye a "mama hen overseeing all her chicks."
Both Davidson and Hummel said the new staff structure is a stronger, "lean and mean" improvement.
"We still all pick up and get the job done," Hummel said.
Hoye said that job will always be to educate in an entertaining way. The staff's challenge is to keep creating ways to accomplish that while maintaining a balance between tradition and innovation, she said.
Fair-goers want the "emotional connection" to treasured experiences. They expect lemon shake-ups and elephant ears and the world's largest boar, but they also come to the fair to see what's new.
Hoye loves using her creative juices and inspiring her staff to use theirs to meet—and exceed—those expectations.
"I've already had planning meetings for 2012," she said. "There hasn't been a day I didn't want to turn into the gate."•
Please enable JavaScript to view this content.