Two Hoosier companies will be responsible for much of the midway fun this year at the Indiana State Fair.
North American Midway Entertainment LLC, or NAME, which has provided carnival rides to the fair for more than 20 years, recently moved from Ridgeland, Miss., to rural Farmland in Randolph County following its acquisition by Danny Huston.
Huston, 52, NAME president, bought the company in June with business partner Jeff Blomsness and relocated it to near his hometown of Parker City,  east of Muncie. Terms of the sale were not disclosed.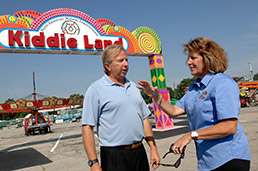 Danny Huston, left, purchased the company that provide rides to the Indiana State Fair and recently moved it from Mississippi at Indianapolis. (IBJ Photo/ Perry Reichanadter)
Now Huston, in a bid to increase ticket sales and add a bit of technology to the nostalgia of the State Fair, will offer five automated ticket machines made by Indianapolis-based Standard Change-Makers Inc.
The machines operate similar to an ATM, automatically dispensing tickets and ride wristbands to give fairgoers a quicker option than the conventional ticket booth to buy their passes. The biggest convenience is that the machines accept credit cards as well as cash.
NAME tried the machines this summer at fairs in Elkhart, Howard and Shelby counties before deciding to roll them out for the State Fair, which began Friday morning and runs through Aug. 21.
"What we found is that this machine is so simple, people walk right up and know how to use it," Huston said. "At the end of the day, they'll buy more tickets, hopefully."
Standard Change-Makers, located on North Mitthoeffer Road on Indianapolis' east  side, traditionally has manufactured change machines for the laundry, car wash, vending and arcade industries.
The company began developing the wristband machine about three years ago, and Huston is the first adopter, said John Doyle, vice president of Standard Change-Makers.
"As far as wristband dispensing, he is the pioneer in the industry right now," Doyle said.
The State Fair has attracted more than 950,000 visitors in each of the two years since expanding to 17 days in 2009. This year, it will celebrate the versatility of the soybean and its $2.5 billion impact on the state.
Huston also is hoping to entice more visitors to the fair by offering all-day ride wristband specials on 10 of the fair's 17 days, and by expanding the hours in which the wristbands can be used.
State Fair leaders appreciate Huston's investment in the event. Besides purchasing the five machines from Standard Change-Makers, he's also added five shaded rest areas and a prominent and colorful new sign to Kiddie Land, the children's section of the midway.
"I believe that he sees the competition for the entertainment dollar, and he is trying to meet the demands for the market," State Fair spokesman Andy Klotz said. "He's making an investment here, and that's just really rewarding."
Huston got his start in the carnival industry as a youngster working a dunk tank for a family friend. After high school, he bought a balloon game in which players throw darts to try to pop them for prizes.
He gradually grew his business until purchasing Mid America Shows from his wife's brothers in 2000. He operated it for five years, then sold to The Cypress Group, a New York-based private equity firm, which folded his company into North American Midway Entertainment.
As chief operations officer of North American Midway, Huston ultimately bought that company from Cypress Group with his business partner in June.
North American Midway has 48 rides and 17 food concession stands at the State Fair. Overall, it owns 230 rides and performs maintenance on them from a facility in Farmland.
The company has 110 permanent workers but can employ as many 2,100 during summer.
They'll travel to 140 carnivals in 20 states, mostly east of the Mississippi River, and a couple of Canadian provinces. North American Midway is so big that it typically operates at six carnivals concurrently.
Some employees are on the road for so long that the company employs a teacher whose traveling classroom can handle up to 12 students.
Attendance is up at most of the fairs North American Midway has visited this year, largely because high gasoline prices may be causing more people to stay closer to home, Huston surmised.
"We do see more people coming to the fairs," he said, "and we want to give them a good value."
Please enable JavaScript to view this content.