Imagine hiring a lawyer to help end your marriage, but he never files the divorce papers.
Or your lawyer is noticeably inebriated in court and is arrested on the spot for public intoxication.
Or she fails to appear at trial, leading to a substantial default judgment against you for more than $35,000.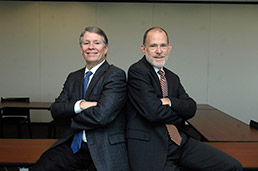 Kevin McGoff, Bingham & McHale LLP and Don Lundberg, Barnes & Thornburg LLP (IBJ Photo/ Perry Reichanadter)
These are just a few examples of recent transgressions committed by Hoosier attorneys serious enough to warrant disciplinary action, which can range from a slap on the wrist to forfeiture of a law license.
Attorneys and even judges who break Indiana's legal ethics code usually hire counsel, and they often turn to two Indianapolis lawyers who have carved out an unusual niche representing brethren facing disciplinary sanctions: Don Lundberg at Barnes & Thornburg LLP and Kevin McGoff at Bingham McHale LLP.
Lundberg and McGoff took different paths to their calling, but they agree that representing clients who can match their legal wisdom provides an interesting challenge.
"We can cut right to the chase," Lundberg said. "With a lay client, I have to build from the ground up. In a sense, [representing attorneys] is more efficient."
Few of the state's 17,000 lawyers catch the eye of the Indiana Supreme Court's Disciplinary Commission.
Moreover, despite a rise in the number of lawyers, the amount of sanctions doled out annually remains relatively stable, indicating lawyer misconduct actually might be declining. In the fiscal year ended June 30, 2010, the most recent available, only 60 lawyers were punished following roughly 1,500 grievances filed with the commission by clients. Those punishments included 41 suspensions, 11 reprimands and one disbarment.
The commission investigates and prosecutes misconduct claims against lawyers. Staff lawyers present their findings to the nine members appointed to the commission, who decide which misdeeds merit the filing of formal charges.
Charged attorneys appear at a hearing, which is conducted much like a trial. A hearing officer, or judge, listens to testimony and submits a report to Supreme Court justices responsible for meting out punishment.
G. Michael Witte, executive secretary of the commission, said most complaints his office receives are dismissed in the early stages of an investigation.
"The person is complaining about something that is an appealable issue [rather] than a disciplinary issue," Witte said. "They don't like the outcome of their case."
'Livelihood at stake'
Lundberg, 61, preceded Witte as commission leader, a title he held for 18 years starting in 1991. He spent nearly two decades prosecuting disciplinary complaints before deciding a few years ago to undergo a radical career change in which he began representing attorneys instead.
The experience and contacts gleaned at the commission enabled him to launch his practice without needing to promote himself.
"It wasn't the black hat-white hat kind of thing," he said about his experiences with the lawyers he helped prosecute. "Even the bad lawyers know who the good lawyers are."
Now, as a partner and deputy general counsel, Lundberg helps represent Barnes & Thornburg in legal matters involving the firm. But he estimated that as much as half his time is spent counseling lawyers on ethics issues.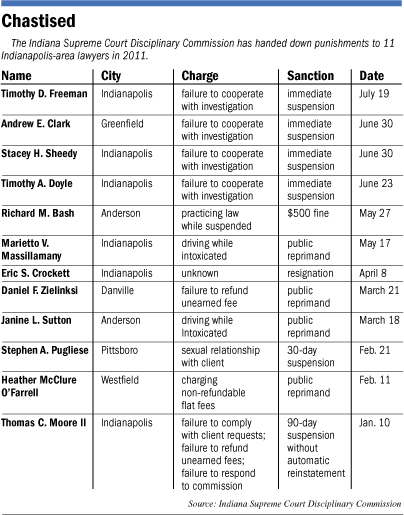 McGoff also honed his legal skills at the disciplinary commission, as a law clerk and staff attorney, though his stint from 1978 to 1981 was much shorter than Lundberg's.
He entered private practice early in his career, and his caseload grew as he became a featured lecturer at legal ethics seminars. Legal ethics matters now make up about 70 percent of his practice.
"I tend to look at these much like I would a criminal case," said McGoff, 58. "It's a person's [law] license and their livelihood at stake."
Indeed, disbarment revokes a lawyer's license permanently, with no chance of reinstatement. A felony conviction or a history of disciplinary problems, for instance, trigger disbarment proceedings.
Eight lawyers have been disbarred in Indiana since 2005, according to commission statistics. But 41 resigned from the bar to avoid facing serious punishment.
Lesser penalties include private and public reprimands as well as suspensions with and without automatic reinstatement. Some suspensions can last longer than six months.
Still, Lundberg and McGoff say that much of their practice simply entails advising lawyers who seek their advice as a precaution, just to ensure they're not breaking rules.
"A lot of lawyers' problems stem from office management issues," McGoff said. "One lawyer with a good secretary can be really efficient."
Serious misdeeds
One of McGoff's most memorable cases involved his representing former Delaware Superior Court Judge Joseph Edwards, who resigned from the bench and subsequently was disbarred in 1998. Before Edwards' tenure on the bench, his biggest offense—a huge no-no in the legal world—was having sex with a client, in addition to falsifying her divorce papers.
As a judge, he failed to recuse himself when a different woman with whom he also had consensual sex appeared before him in a custody dispute.
"[Edwards] committed the unconscionable act of using his law license as a means to barter for sex," Supreme Court justices wrote in their order.
More recently, McGoff is representing former Marion County Prosecutor Carl Brizzi, who faces disciplinary charges over potentially inflammatory comments he made about the high-profile Hamilton Street murder case.
Following the killings, in which seven family members were murdered in their home in June 2006, Brizzi made comments in a press release that "had a substantial likelihood of heightening public condemnation," the complaint alleged.
A hearing officer in June recommended the commission's charges against Brizzi be dropped, and the commission had 30 days to file an appeal. It was granted a 30-day extension to better prepare the appeal, said the commission's Witte.
More typical complaints filed with the commission involve the neglect of a client's case and failure to communicate with a client. Sometimes, though, lawyers are tempted by money and dip into client retainer fees or awards won during litigation.
Lundberg recalled a case during his time leading the commission in which a prominent Shelbyville lawyer went to prison after being convicted of taking financial advantage of an elderly client.
As a lawyer, Lundberg said he enjoys the psychological aspect of his work.
"You delve into human behavior," Lundberg said. "What was the underlying cause of this lawyer's behavior? Was it financial desperation or a sense of entitlement turned upside down?"•
Please enable JavaScript to view this content.