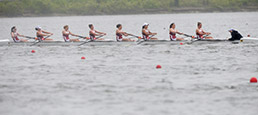 The First Varsity 8 crew for Indiana University competed in the Big Ten Championships in May at Eagle Creek Park. (Photo Courtesy Indiana University Athletics)
While we at the Indianapolis Rowing Center applaud Bill Benner's [July 23 column] call for attention to the crumbling infrastructure of our city's amateur sports facilities, we'd like to add one bright spot—the rowing center—and our recent volunteer effort to raise nearly $200,000 to rebuild the center's 35-year-old finish tower and seven-lane race course at Eagle Creek Park (one of the country's few 2,000-meter race courses sanctioned for international competition by Fédération Internationale des Sociétés d'Aviron, the international governing body of rowing).
While we still need another $25,000 to finish off Phase I of the center's first major capital campaign, the hard work is paying off in increased recognition for the city and its valuable amateur sports brand.
In May, we hosted the first Big Ten Rowing Championships and will have those championships returning for at least two more years. Plus, a couple of weeks ago we hosted the U.S. Rowing Club Nationals, bringing in 1,500 elite junior and collegiate rowers. The center has hosted Club Nationals more than a dozen times including 2004, 2005 and 2006.
We also plan to bid for the 2014 NCAA Rowing Championships, which the center and the city last hosted in 2002 and 2003.
So, please, the next time you write about our city's key amateur sports venues, don't skate over the Indianapolis Rowing Center and its successful campaign to restore our facilities and seven-lane course to world-class standards.
____________
Dave Carter
board president
Indianapolis Rowing Center
Please enable JavaScript to view this content.