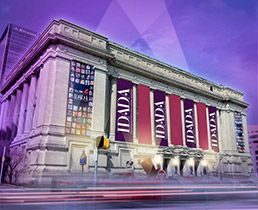 The old city hall will house an art exhibit during the Super Bowl. (Rendering Courtesy Indianapolis Downtown Artists & Dealers Association)
Downtown gallery owners laid claim years ago to the first Friday of each month, and they see no reason to relinquish it on Feb. 3, 2012.
An exhibition inside the unused former city hall is one of several art happenings planned around Super Bowl XLVI.
"We're hoping to give a new impression of Indianapolis. There's a lot more to do here than just go to conventions and games," said Abbey Chambers, president of the Indianapolis Downtown Artists and Dealers Association, or IDADA.
It's a message arts promoters have repeated many times over the years, but the Super Bowl will be a megaphone like no other. The host committee, through its arts and culture subcommittee, is trying to integrate the arts to a degree not seen in other host cities, said Dave Lawrence, president of the Arts Council of Indianapolis and a member of the subcommittee.
The committee encourages organizations to plan events, such as the IDADA Art Pavilion in the former city hall. IDADA is raising $200,000 to convert the unused building at Ohio and Alabama streets into a juried exhibition space for 20 local artists, or artists represented by local dealers.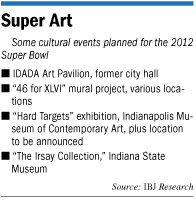 Other happenings in the works are a citywide mural project, a sports-related exhibition at the Indianapolis Museum of Contemporary Art, and an exhibit based on Indianapolis Colts owner Jim Irsay's personal collection of historic and cultural artifacts.
The typical Super Bowl attendee will have 2-1/2 days to kill before the big game, noted Jim Steeg, a sports-event consultant and former NFL vice president who planned 26 Super Bowls.
Steeg said some fans will check out an arts event if it's promoted well.
"You can't define a Super Bowl fan," he said. "You're talking about upwards of 100,000 people coming into town. Everybody tries to find what interests them."
The IDADA organizers hope Super Bowl attendees will venture away from the downtown core to Massachusetts Avenue and stop at their exhibit en route. The pavilion also will be open in mid-January for the benefit of locals, and it might end up hosting private parties, Chambers said.
Another event on the calendar is "Hard Targets," an exhibit exploring sport and masculinity that the Indianapolis Museum of Contemporary Art will open Feb. 3.
Brandon Judkins, president of the IMOCA board, hopes Super Bowl attendees will find their way to the museum in Fountain Square. At the very least, he thinks the show will be of high interest to the local arts community.
"This is going to be a show that will attract several thousand," Judkins said. "What the additional Super Bowl traffic will mean, I'm not sure."
Meanwhile, the Indiana State Museum hopes to take advantage of its proximity to downtown hotels.
The state museum will host "The Irsay Collection," opening in late January. It will include the scroll manuscript of Jack Kerouac's "On the Road"; guitars once owned by Keith Richards, George Harrison, Stephen Stills and Elvis Presley; the last correspondence between Thomas Jefferson and Thomas Paine; and various NFL memorabilia.
The state museum also extended the run date of its Shackleton Antarctic exploration exhibit in anticipation of increased traffic from the Super Bowl, spokeswoman Kathi Moore said.
One question mark, however, is what days the museum will be closed. Like many other cultural venues near and not so near to downtown, the museum blocked out a three-week period so it could play host to private parties.
The state museum has booked one corporate party that requires closing the entire museum for 2-1/2 days. Moore said museum officials still don't know which days those will be.
Other arts-related programs will be rolled out as the committee learns exactly when certain venues will not be tied up with parties, Lawrence said.
Not every arts executive is convinced that the Super Bowl will bring enormous crowds.
"It's a nice couple of weeks of intense visibility and investment," said Maxwell Anderson, CEO of the Indianapolis Museum of Art.
Nevertheless, the IMA booked a special exhibit to run through Feb. 12. Anderson said he chose "Art of the American Indians: The Thaw Collection" because it relates to Indiana's frontier history.
The exhibit allows the IMA to "unpack for the world why we're called Indiana," he said.
Arts promoters also have their eyes on that audience in TV land.
With the Midwest shrouded in winter gray, camera crews will have no trouble finding dozens of newly painted murals. The arts council and Mayor Greg Ballard's office launched "46 for XLVI," a $500,000 project that will place 46 murals at sites around the city.
Several murals will be concentrated along the Central Canal, the East 10th Street corridor and, of course, downtown. Some of the first confirmed locations include the Union Station train shed (artist Artur Silva) and the underpass on Capitol Avenue near South Street (artist Tom Torluemke).
The arts council has rounded up about $200,000 in private donations, and the Indianapolis Bond Bank will provide as much as $200,000. (The bond bank considers the murals part of the city's infrastructure and an economic development initiative, Ballard spokeswoman Paula Freund said.)
The made-for-TV moments will be invaluable to the city's reputation as a cultural destination, Steeg said.
"You've got 5,000 media, and you've got them there for a week," he said. "They're all looking for what they can communicate outside the game."•
Please enable JavaScript to view this content.